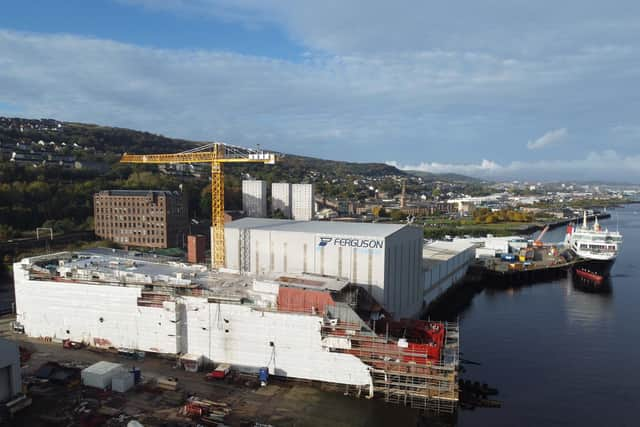 It said Cmal "informed Transport Scotland that its preference was to re-start the procurement process" and "Transport Scotland alerted Scottish ministers to Cmal's concerns and the risks of awarding the contract to Ferguson Marine".
The BBC documentary, The Great Ferries Scandal, claimed the process had been "rigged" in favour of Ferguson Marine in Port Glasgow, which was then owned by prominent SNP supporter Jim McColl.
It claimed a 400-page specification for the ferries compiled by CalMac found its way into the hands of Ferguson Marine during the bidding process, much of which the shipyard included in its tender for the contract.
However, Cmal chief executive Kevin Hobbs has told The Scotsman much of the information in the CalMac "statement of technical requirements" document was extraneous detail, such as carpet colours and the number of deep-fat fryers required. He said all the "salient points" were circulated separately by Cmal to all the short-listed bidders.
Hobbs said Ferguson Marine would "absolutely not" have had any competitive advantage by seeing the full document. He said: "We could actually argue that having that document could almost be badged as unhelpful because it's almost too much information."
Cmal has also repeatedly defended the procurement process, stating it had found no evidence to support claims of preferential treatment.
The first of the two ferries, which has been named Glen Sannox, is due to be finally delivered by May and enter service at the turn of the year – five years later than the originally planned yard completion date of May 2018. Hull 802 is due to be delivered by March next year compared to its original July 2018 date.
The contract is now expected to cost more than three times the original £97 million deal, including loans to yard which went into administration prior to being nationalised.
Mr Swinney has told MSPs that ministers "would explore what further steps" were required to ensure the BBC allegations were "properly, independently, investigated".
The Scottish Parliament's public audit committee is expected to report on its inquiry into the delays to ferries next month after taking evidence from First Minister Nicola Sturgeon, disgraced former finance secretary Derek Mackay, who was transport minister when the contract was awarded, and senior executives from Cmal and Transport Scotland.