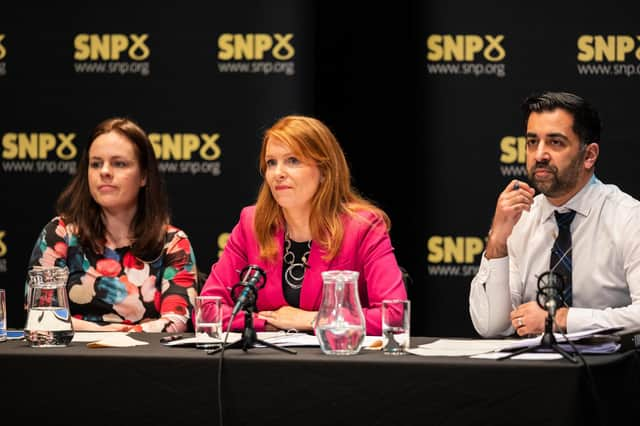 All three candidates, Ash Regan, Kate Forbes, and Humza Yousaf, have commented on "serial attendees" at the party's ongoing hustings, with some linking them to the accusation of the "party machine" backing Mr Yousaf, the health secretary.
Ms Regan, a former minister who resigned over the gender reforms, said it was "very important" the membership "should have full trust in the transparency of this process".
A senior Regan campaign source later claimed SNP HQ were "bussing in people to support Humza", resulting in a "slightly more difficult crowd for everyone else as a result of that."
They added: "I don't think they started off as scared. I think they thought this would be a coronation. They obviously saw Kate as being the main challenger, so she has taken all the heat and it's been pretty nasty. And then he's denying it's anything to do with him but it's from his campaign and we can all see it.
"So I think they're trying to shore up as much support for him as possible. They've broken the rules on multiple occasions - nothing's been done about that - so they're trying to take every advantage they can, I think inappropriately."
Finance secretary Ms Forbes, asked about the claims on Thursday, said she thought a few had appeared at hustings in Inverness, Cumbernauld, and Johnstone, but disagreed with the suggestion that SNP HQ was behind their attendance.
"I don't think so personally," she said. "I know that people have been unhappy that hustings have sold out quite quickly. But to be fair, you could watch all the live streams if you wanted from the comfort of your bedroom."
She added she had "great confidence" in the integrity of the process.
Mr Yousaf labelled the suggestion a conspiracy theory when asked about it by reporters. He said: "There have been lots of conspiracy theories so far in this campaign, but that's a new one on me."
The SNP refused to comment.
Want to hear more from The Scotsman's politics team? Check out the latest episode of our political podcast, The Steamie.