Mossmorran: ExxonMobil pledge to engage openly ahead of £140m investment
The operators of a controversial Fife gas plant have pledged to engage openly with locals as they prepare to install new equipment designed to make flaring less disruptive.
ExxonMobil will install a new "enclosed ground flare" at the Fife Ethylene Plant (FEP) in Mossmorran, near Cowdenbeath by the end of 2022 - two years ahead of schedule.
The new flare will largely replace the 130m-tall existing flare stack that has been the target of much criticism by locals for years.
Flare stacks give off bright flames that can be seen for miles around when they are used to burn off excess gases produced at the plant.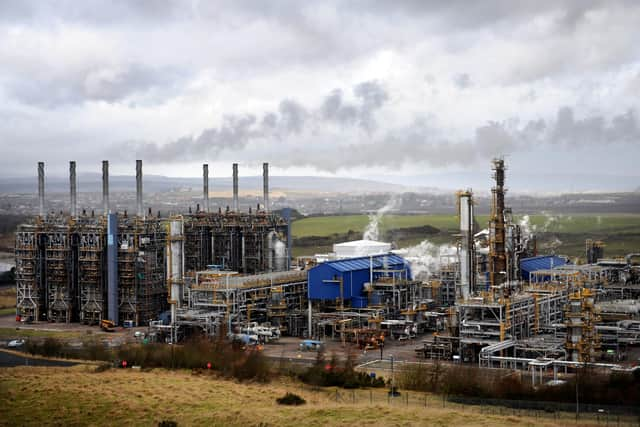 Kevin Poot, technical and engineering manager at FEP, says the new system will contain these unpleasant side-effects to such an extent that visible flaring will be reduced to 2% of its current levels.
"We've had our share of flaring events and we're sorry for that," he told a Fife Council committee meeting today (Thursday March 25).
"Our reliability has not been as good as we wanted it to be and we appreciate that flaring can cause disruption to communities because of the noise and the light.
"We've listened to the community's concerns and we're taking action."
The enclosed flare will be 31m tall and sit camouflaged among the other equipment at the facility, which is undergoing a total of £140 million of upgrades to improve reliability and reduce the overall need for flaring.
Among the upgrades is a new noise-reducing elevated flare tip from Italy, which has been delivered and is set to be installed in the coming weeks.
ExxonMobil, backed by numerous studies by Fife Council and environment body SEPA, says flaring is safe - but does not deny its disruptive qualities.
The company was investigated by SEPA and referred to Scottish prosecutors last year over an extended flaring event in spring 2019.
"This site is a very complex machine," Mr Poot said of the plant as a whole.
"The flare will have a significant positive impact in the community. It is my firm belief that this ground flare will be operational by year-end 2022."
Ground flares are a fairly new and emerging technology that is only used by a handful of gas plants around the world, making the Fife plant a leader in the field.
Stuart Neil, external affairs manager with ExxonMobil, says the company aims to engage more with locals to educate them on how the flare will work and to reassure them over the plant's impact on their local area - a promise environmental services convener Cllr Ross Vettraino (Lab) has challenged him to stick to.
"Communication with the community is key in this area," Cllr Vettraino said.
"The more we can keep the community involved in what you're doing the better it will be for all concerned."
Notes to editors: Images attached. This article was updated on March 26 to correct a reference to a component being delivered from Italy - this in fact refers to a new elevated flare tip for the existing flare stack.
Thank you for reading this article on our free-to-read website. We're more reliant on your support than ever as the shift in consumer habits brought about by Coronavirus impacts our advertisers.
Please consider purchasing a subscription to our print newspaper to help fund our trusted, fact-checked journalism.