Court defeat for short-term licence scheme sees demand for Scottish ministers to 'return to drawing board' on policy
Critics of holiday lets branded the decision a "slap in the face" for residents suffering from their impact.
Campaigners and industry groups have welcomed a judge's ruling that parts of Edinburgh's planned curbs on short-term lets were unlawful following the largest crowdfunded legal action in Scotland.
The ruling comes after the Scottish Government introduced legislation last year to help local authorities control the growth of Airbnbs in their area, sparked by significant increases in the capital, the Highlands and Islands, and parts of Fife.
However, following a judicial review driven by more than £300,000 worth of crowdfunded financial support, Lord Braid ruled aspects of the policy set to be introduced in four months' time were unlawful.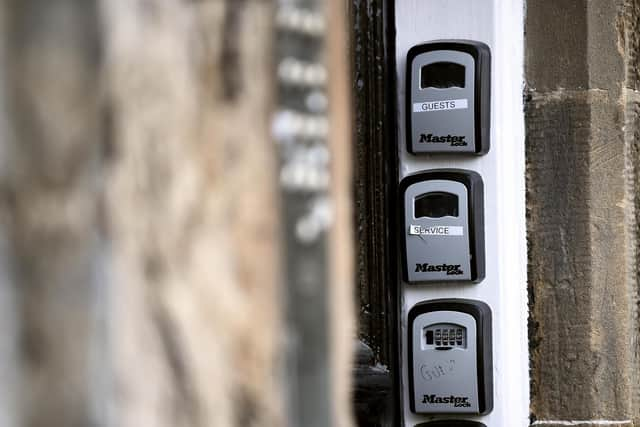 It leaves the legislation brought in by the Scottish Government under renewed scrutiny, with the Association of Scotland's Self-Caterers demanding ministers "return to the drawing board".
Tenants union Living Rent branded the court decision as a weaponisation of the court system by those with money.
Edinburgh City Council had introduced rules which included a presumption against the granting of new licences for short-term let properties such as Airbnbs unless the owner could demonstrate or argue why they should be exempt from that rule.
This was challenged in court by four petitioners, with the crowdfunder for legal fees raising a record £306,189.
Lord Braid ruled the 'rebuttable presumption', requirements for floor covers in properties, and a lack of provision for temporary licences was unlawful.
He wrote: "It is not the function of the respondent's licensing authority to decide that a licence should not be granted because a property is of a particular type or is in a particular area.
"For the respondent to adopt a normal practice of not granting a short-term licence for premises in a tenement, even where planning permission had been granted, is irrational and contrary to the purposes of the overall statutory scheme.
"It would be perverse and oppressive for the respondent, upon receipt of a licensing application, to require an applicant to obtain planning permission for a tenement property; and thereafter, planning permission having been obtained, to refuse the licence for no other reason than that the property was in a tenement."
Association of Scottish Self Caterers chief executive Fiona Campbell said the decision was vindication for campaigners who labelled the plans an "existential threat" to their livelihoods.
She said: "The fact this was the biggest crowdfunder in Scottish legal history demonstrates the strength of feeling that the council's licensing plans were an existential threat to the livelihoods of operators. The impact of this will not be confined to the capital as the decision has ramifications for licensing schemes across Scotland.
"The Scottish Government need to go back to the drawing board on short-term let regulation and engage constructively with industry to provide a regulatory framework that works for all stakeholders."
Plans to limit the spread of short-term lets were brought in due to concern about their impact on local housing supply and on neighbours.
Eilidh Keay, chair of the short-term let campaign at tenants' union Living Rent, criticised the decision, pointing at evidence the "overwhelming majority" of people in Edinburgh backed tighter restrictions on such holiday lets.
She said: "This flies completely in the face of democracy and the will of the people. This decision demonstrates how a small group of people can use their money and power to weaponise the legal system to their advantage and, in doing so, hold an entire city and its housing to ransom.
"Edinburgh needs homes, not holiday lets. In coming down in support of short-term let operators, this decision seems to have forgotten that Edinburgh is in the midst of a housing crisis. It is disgusting that the profit of short-term let operators should be put before the needs of tenants, residents and communities for homes."
"This city is in desperate need for proper short-term let regulation, that not only dictates how they are run, but also whether they should be operated in the first place."
The Scottish Green party also labelled the decision a "slap in the face" for residents suffering from the lack of affordable homes in Edinburgh, while the Scottish Conservatives said the ruling was "damning proof" the overall scheme was "fatally flawed".
Miles Briggs, the party's housing spokesperson, said: "Scotland is in the grip of a housing crisis under the SNP, and their short-term lets scheme is patently unfit for purpose. This decision on the Edinburgh scheme should be an urgent wake-up call to ministers who have typically ploughed ahead and arrogantly ignored advice from industry experts.
"While we must be conscious of taking specific local needs into account, the SNP need to urgently rethink their plans if they are to avoid yet another policy completely unravelling."
Cllr Ben Parker, co-convenor of the Edinburgh Greens, said: "This is a deeply disappointing judgement, which will be a slap in the face for the many residents struggling to find an affordable home as a direct result of the proliferation of unregulated holiday lets in the city.
"An effective system of regulation of short-term lets is essential and this includes licensing. We will study this judgement in detail and will work constructively with colleagues to ensure the council swiftly introduces a revised licensing scheme, which is robust, but which respects the court ruling."
Cammy Day, the Scottish Labour leader of Edinburgh council, said he was pleased "large parts" of the policy were defended successfully. He said he made "no apology for seeking to protect our residents".
"It's no secret that we face unique housing pressures here in Edinburgh, with a small, but densely populated city centre and fast growing population, and it's crucial for us to strike the right balance between promoting our visitor economy while looking after the people that live here all year round," he said.
The Scottish Government was contacted for comment.
Comments
 0 comments
Want to join the conversation? Please or to comment on this article.