Dani Garavelli: Scotland's shame and pride square off once again
Last August, I spent some time with the No Evictions campaign. It was just after Serco had threatened to change the locks of failed asylum seekers, and many different groups – lawyers, charities, trade unionists and grassroots organisations – had come together to demonstrate that Glasgow was a city that welcomed refugees; a city that wouldn't let a global corporation ride roughshod over its most vulnerable residents.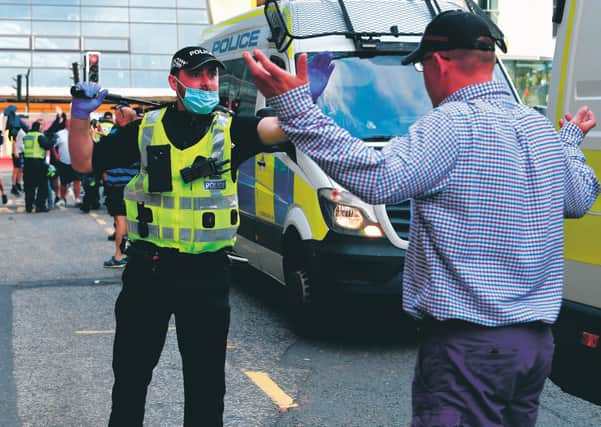 I remember it so clearly because, later that night, Patti Smith played the Kelvingrove bandstand and, as she sang People Have The Power, it felt right and true. I was proud to live where I live, even though I know that pride is an illogical emotion to attach to an accident of birth, and that exceptionalism, which is a form of pride, comes before a fall.
There was little to be proud about last week as police officers lined up in George Square. The trouble that flared there on Wednesday was evidence that, like every other UK city, we have our fair share of angry white men spoiling for a fight, while the drawing of a false equivalence between protest and counter-protest by the Scottish Police Federation (SPF) and some journalists, demonstrated a reluctance to face up to the bigotry that lurks in our darkest corners.
What happened in George Square was complicated: it appeared to involve a potent mix of racism, class, tribalism and excess testosterone; but the federation's claim that "left-right, green-blue, statue-wrecker or statue-protector – your side is as bad as the other" was a shameful equivocation that left one wondering what on earth was going on.
Indeed the more I have read it, the more offensive it appears. Was SPF chairman David Hamilton – who devotes much of his time to the anti-hate charity Remembering Srebrenica – really equating a civil rights protest with an ad hoc group of right-wing rabble-rousers who came together purely as a provocation?
The No Evictions protest was a peaceful demonstration by long-standing campaigners with a fixed objective: to highlight the way asylum seekers are being forced to live as a result of Covid-19. You could – as the SPF did – challenge the wisdom of allowing such a demonstration to take place during lockdown, although – as the issue it is highlighting is directly connected to the pandemic – it doesn't make much sense to wait until it is over; and the potential consequences of taking a heavy-handed approach to Black Lives Matter and other rallies ought to be obvious.
But there is no justification for questioning the credibility of the organisers. These were not fringe extremists piggy-backing on the Black Lives Matter movement, but a group with a track record of standing up for the rights of asylum seekers.
The counter protest, on the other hand, was organised by the National Defence League – a rebrand of the Loyalist Scottish Defence League – and served no purpose other than to sabotage the No Evictions demonstration (an objective it achieved). Those involved claimed they wanted to protect the Cenotaph and the statue of Robert Peel (which had previously been targeted by the Glasgow Youth Art Collection) but from what threat? The No Evictions activists have no track record of damaging monuments. Any acts of civil disobedience they have engaged in involved preventing lock-changes or chaining themselves to the gates of the immigration offices.
At last week's protest, their banners were focused on Mears (the company that took over the provision of asylum seeker accommodation from Serco) and their chant was: "Say it loud, say it clear: refugees are welcome here." According to journalists at the scene, the trouble started when NDL protesters started heckling and singing: "Rule Britannia". Later, some Loyalists charged across George Square pursued by police. There were six arrests in all, but no serious injuries. Most of the damage was to the reputation of the city.
While sections of the media prevaricated, the Scottish Government was quick to place the blame where it lay: at the door of the NDL. Let's not mince our words, this has nothing to do with statues and everything to do with racist thuggery," tweeted Justice Secretary Humza Yousaf. Nicola Sturgeon called the scenes "disgraceful" and said the racist thugs shamed the country.
All this is true, but it is not the whole truth. Racist thuggery is a feature of cities across the US and the UK, but in Scotland it has its own particular flavour. In Scotland, it is so closely intertwined with sectarianism and politics and the constitution and football that it is difficult – and potentially dangerous – to properly unpick.
Who can say what exactly was at the heart of last week's trouble? But here are some things we know. There are elements within Scottish Loyalism who regard the SNP and the left-wing "causes" it embraces as safe havens for Republicanism. They believe the SNP administration at Glasgow City Council has "an agenda" against the "Loyal orders in the city" and that the desire for self-determination is synonymous with a hatred for the British state. Those in George Square may be on the fringes, but the Orange Order has refused to call out their actions for what they are. Indeed, grand master Jim McHarg, referred to them as "patriots".
As for football, it's always in the mix. There are Rangers fans who seem to take the Green Brigade's support of food banks, refugees and Palestine (and its changing of the street names in the Merchant City) as a personal affront. Did football-related sectarianism play a direct part in the NDL's antagonism? Who knows? But it's woven into the fabric of the place. And it seems reasonable to suppose the lack of matches has left some fans looking for other outlets.
It is important to be clear about the nature of the NDL's "thuggery". Those historically illiterate British nationalists who raised Nazi salutes at the Cenotaph are racists, for sure. But the recent upsurge in disorder began – not in response to Black Lives Matter or the asylum seeker protests – but, last year, during a run of sectarian marches.
In one of the worst incidents, 400 Loyalists turned up to protest against a 200-strong Irish Republican march through Govan. Violence flared, leaving locals trapped in their homes. Escalating tensions led Glasgow City Council to place a temporary ban on both Republican and Loyalist marches.
The pandemic ought to have bought the city a reprieve. All of this year's Orange Walks have been cancelled, but who now believes the George Square Loyalists will heed their leaders' appeals to celebrate 12 July online, especially given McHarg has effectively sanctioned last week's behaviour?
On the plus side, however, as I have been writing, the Say No to Racism rally has passed off in a (relatively) trouble-free and (relatively) socially distanced fashion. The images of neo-Nazis have been overshadowed by a square full of anti-racists taking the knee in an orderly, unthreatening manner, although there have been complaints about some aspects of the policing. That's the city I want to live in. A city where we can tell the moral difference between anti and pro-racism campaigners, and where (even during a pandemic) peaceful protesters are protected. Forgive me if I take false pride in that.
Comments
 0 comments
Want to join the conversation? Please or to comment on this article.