Questioned about a possible risk of crime under the scheme, which is due to come in from August 16, Ms Slater stated that the empty containers "would have a value".
Speaking about the empty cans and bottles shoppers will return to stores to get their money back, Ms Slater, the circular economy minister, said: "The items do have value, so will need to be kept securely.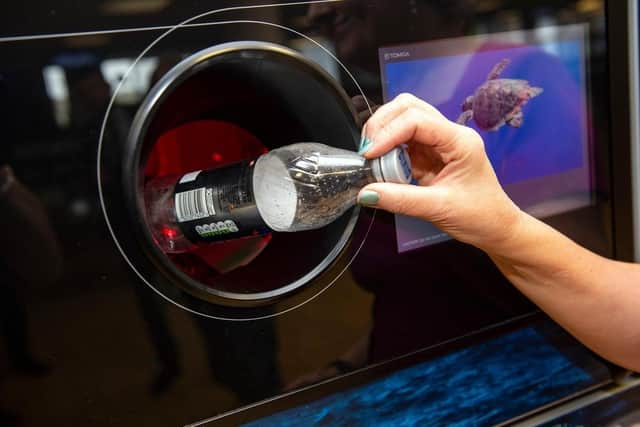 "Because the shops themselves need to return those items in order to get their fees. So they do need to secure those items."
Conservative MSP Liam Kerr had pressed her on whether there was a "risk of crime being associated with open bins being stored behind counters".
Ms Slater, who was giving evidence to MSPs on Holyrood's Net Zero, Energy and Transport Committee, said it would be "up to each business to figure out how they can store these materials".
She also said the value of the empty containers would be "small" in comparison to items such as alcohol and tobacco which may also be in a store.
Ms Slater stated: "I actually think that the problem is largely one of misunderstanding of what the scheme is and how it operates."
She spoke of her "frustration" as she insisted some media reports on DRS, which will be administered by the not-for-profit organisation Circularity Scotland, "are simply not accurate".
The minister added: "Any businesses that are not clear about their role, instead of reading something on Twitter, what I recommend they do is get in touch with Circularity Scotland and get the right information they need."
Ms Slater conceded that there "are still some concerns from some small producers about how they participate in the scheme".
But she said the Scottish Government was working with Circularity Scotland and others to "bring them on board so they can continue to supply the Scottish market".
With not all drinks producers having signed up to take part in the scheme by the March 1 deadline, Ms Slater explained how businesses who have not signed up by June 30 would not be able to sell their products in stores in Scotland after DRS is launched.
The minister said: "Any businesses that are not registered in time for scheme launch will not be able to supply in Scotland, so we do encourage them to get going."
Ms Slater had previously said the Scottish Government was "actively considering" exemptions for small businesses for the first year of DRS, but she told MSPs there could be "big challenges" with that.
Asked about a possible grace period, Ms Slater said: "There are some big challenges for that, not just that it is maybe not fair to medium-sized producers, it is not fair to those small producers who have signed up.
"What we need to do is take a step back again. We know that hundreds of small producers have signed up so this is clearly not a universal barrier.
"So for those businesses who haven't signed up we need to look at what the challenges are and make sure we are putting in place the right measures to help them get on board."