Humza Yousaf, speaking to journalists at a campaign event, made the comments as he repeated his call for smaller producers to have a grace period for a year.
Lorna Slater, the minister for the circular economy, is set to update the Scottish Parliament on the scheme tomorrow after a statement was hastily added to Holyrood's business on Tuesday.
It is understood it will cover three main topics, namely the controversy over the Scottish Government's apparent failure to request an exclusion from the internal market act, something the government denies, action set to be taken for small producers, and what will happen to any producers who miss the deadline to sign up to the scheme today.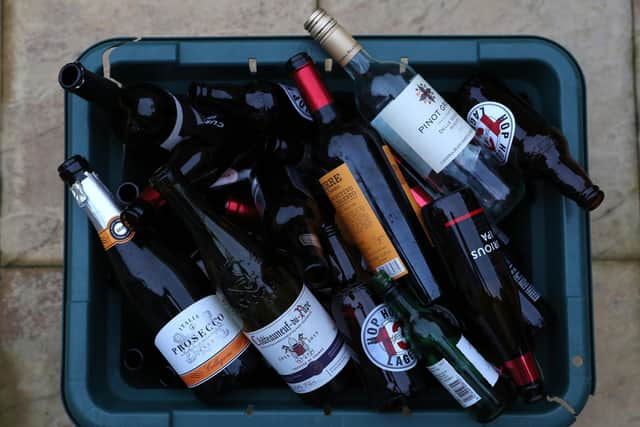 The scheme, which was in the SNP manifesto, has become a political football for the three leadership contenders, with finance secretary Kate Forbes warning it will cause "economic carnage" and former minister Ash Regan stating she would delay the plans.
Mr Yousaf, however, said it was "right that we continue" with the scheme, saying another delay would "let the large producers...off the hook".
He added: "I do think there is a reasonable argument around those smaller producers, those craft breweries, craft gin makers, who are not overwhelmingly responsible for the litter or pollution we see in our streets and our beaches.
"That's why I've called for a grace period for a year."
Asked whether businesses who fail to sign up will be banned from selling their products in Scotland, Mr Yousaf responded with an emphatic "no".
"I've said I'm willing to take a flexible approach to the DRS scheme," he added. "I understand there are concerns particularly around the small producers."
Lorna Slater said it would be "absolutely a kick in the teeth to industry" to delay the controversial initiative, which is due to start in August.
She was speaking after Ms Forbes said the deposit return scheme (DRS) will cause "economic carnage" for businesses and backed calls to pause it.
Scottish Labour has called for Ms Slater to resign, saying she has "lost control of this scheme after failing to do the basics to make it work".
The scheme involves shoppers paying an extra 20p when purchasing drinks in a can or bottle, with the deposit returned when they bring back the empty container for recycling.
Producers have until midnight on Tuesday to sign up for the scheme.
Ms Slater, a Green MSP, said at the weekend that small drinks producers may be given a one-year exemption from the planned scheme, but she stressed on Tuesday that its introduction should not be delayed.
She told BBC Radio Scotland's Good Morning Scotland programme: "No-one with any credibility to support business in Scotland would delay the scheme any further because those businesses that have made that substantial investment, those shops that have got their planning permission for their reverse vending machines, they don't get their return on that investment until those 20 pences start flowing.
"No-one with any credibility would delay that. The question on the table and the sensible question is what small producers can do to become compliant with the scheme, we've been working very closely with small producers, we've got an extra £22 million of cash on the table, cash flow support for them last week, we've got support for labelling, we're working through the issues.
"One of the requests on the table from small producers is that grace period and that's exactly what we're working on to see how that would work with the scheme, bring those producers into the scheme at the time that works for them."
Want to hear more from The Scotsman's politics team? Check out the latest episode of our political podcast, The Steamie.