"No matter what I do in future, nothing – absolutely nothing – will come close to the experience of the past 3,046 days," she said. "Being First Minister of the country I love has been a profound honour. I have led Scotland through good times, but also through the toughest period of our recent history."
Exactly three years ago to the day, Ms Sturgeon said, she had stood at a podium in St Andrew's House in Edinburgh and asked the country to stay at home. Covid had changed her, she said, and would in many ways define her time in office. It is hard to disagree.
Her exit brings to a close an era that has reshaped modern Scottish politics. Few would dispute that Ms Sturgeon dominates the political scene and eclipses her rivals. But her last First Minister's Questions in Holyrood, held just before her valedictory speech, also laid bare the deep divisions that characterise our public debate.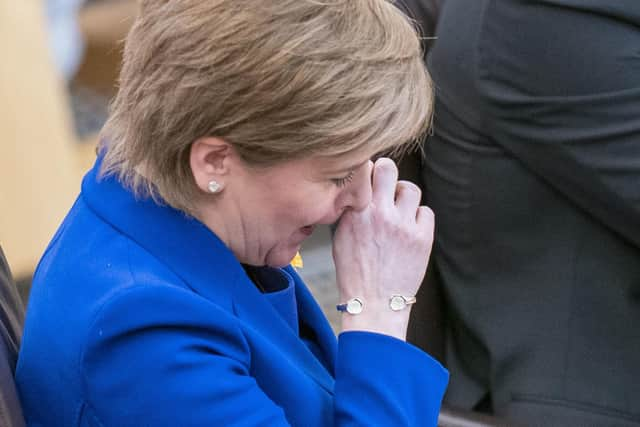 It was a stormy affair, with Scottish Conservative leader Douglas Ross repeatedly accusing Ms Sturgeon's party of lying about its plummeting membership numbers. "Nicola Sturgeon is treating the Scottish public like idiots," he said, before tearing into her legacy. "She divided our country and failed on every mission she set herself."
Scottish Labour leader Anas Sarwar pointed to record A&E waiting times, record drug deaths, record levels of homelessness and a "culture of cover up and secrecy". He called for a Holyrood election.
Ms Sturgeon fought back, laying into her opponents and highlighting her party's electoral successes. "Ultimately, the only people who will cast a verdict on the record of my or future governments are the people of Scotland, and in my time as First Minister they have had eight opportunities to do that," she said. "And on each of these eight opportunities, they have voted for me, for the SNP and for my government."
Later, in her farewell speech, she admitted she had made her "fair share" of mistakes, but insisted she was proud of her record. She listed policies such as the expansion of free childcare, the Scottish Child Payment, widening access to higher education and minimum unit pricing for alcohol.
"No girl in our country now has any doubt that a woman can hold the highest office of the land," she said. Her sister, Gillian, could be seen nodding vigorously in the public gallery at several points in the proceedings. Shona Robison, the Social Justice Secretary and a close friend of Ms Sturgeon's, occasionally wiped away tears.
Ms Sturgeon was most emotional when thanking John Swinney – "the best Deputy First Minister and the best friend I could have wished for on this journey" – and the core team of staff whose "care, kindness and humour" had sustained her during her time in office. It was a touching moment.
Replying on behalf of their parties, Mr Ross and Mr Sarwar tempered their tributes with a sprinkling of criticism. "We have all lived through the Sturgeon era of Scottish politics, and that era is now coming to an end," said Mr Ross. He revealed he had asked the First Minister 256 questions as Tory leader. "Once or twice I've even got an answer."
Mr Sarwar said even Ms Sturgeon's harshest critics would accept she is "an able and formidable politician who has stood at the forefront of Scottish politics for more than 15 years". He added: "And while we've disagreed passionately about what is best for the people, I have never for a moment doubted her love for Scotland."
Never in the history of devolution had a First Minister enjoyed so much power, time and political capital, the Labour leader said. But the promise of devolution remained unfulfilled. "Child poverty is still too high, NHS waiting lists are still too long, our public services are struggling and our economy does need to be restarted."
Ms Sturgeon used her speech to call for more kindness in politics. "Maybe, just maybe, we might actually enhance our democracy if occasionally we – all of us – treated each other with kindness too. If we remembered we are opponents, not enemies."
Next week, the SNP will have a new leader. In all likelihood, they will become the next First Minister. A new era will dawn, and what happens next is anyone's guess. But those hoping for a kinder political culture may be sorely disappointed.