Douglas Ross confident he has backing of MSPs amid tactical voting plea anger
Douglas Ross has claimed his comments on tactical voting were taken out of context following fury from MSPs.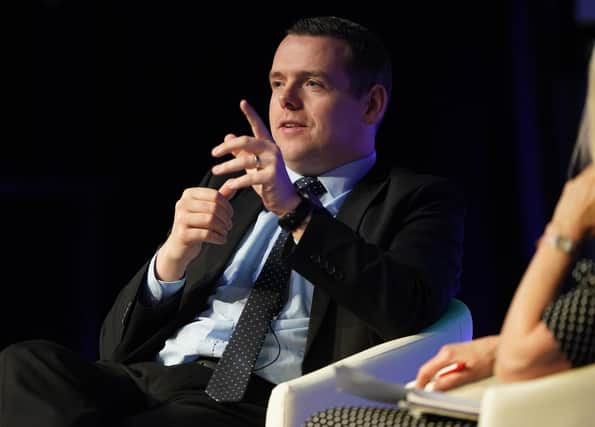 The Scottish Conservative leader had told the Sunday Telegraph that voters at the next general election should back whichever candidate is most likely to beat the SNP.
This would be "what's best for the country", adding "what would be best is if we see this grip that the SNP have on Scotland at the moment is loosened", Mr Ross said.
The comments sparked fury from MSPs with some openly questioning Mr Ross' leadership, while Number 10 issued a rebuke to the comments.
Mr Ross was unequivocal when asked if he still had the confidence of his group, stating "Yes, I do".
Asked by journalists whether the Prime Minister told him to roll back on the plea, which included Tory supporters voting Labour in places like Glasgow, Mr Ross said "No".
He said: "My comments were very clear that I would always encourage Scottish Conservative voters to vote Scottish Conservatives.
"In seats right across Scotland, we are in many cases the strongest challenger to the SNP and if people had spoken about the Moray seat back in 2015 when the SNP won 56 of the 59 seats, people would have thought the Tories and no other party could ever win.
"But just two years later, Angus Robertson was out of a job and the Conservatives had won that seat and I was a new MP because Labour and Liberal Democrat voters came behind me and our party because we were the strongest party to remove the SNP from power.
"We can do that again at the next election and send the strongest possible signal that Humza Yousaf has got the wrong priorities focusing on independence over the issues that really matter for people and ensure that we elect MPs that stand up for local areas rather than for more division."
He rejected the stance was a big shift from his previous position, stating "I don't write the headlines".
Mr Ross said: "I've said very clearly, I'm always going to encourage every Scottish Conservative voter to vote Scottish Conservatives.
"It's not [a big change], because I don't write the headlines...The Daily Telegraph headline didn't contain any of the words I used, the text below it did."
Comments
 0 comments
Want to join the conversation? Please or to comment on this article.