The Scottish Conservative leader said it was "completely bonkers" to take up parliamentary time with the issue as the health service suffers, school strikes loom and public services struggle.
He said the NHS was in "the grip of a winter crisis" with waiting times "spiralling" and staff left "overworked".
Mr Ross said his party will hold a "special conference" in the spring on the future of the economy and public services, timed to take place just weeks after an SNP conference on independence.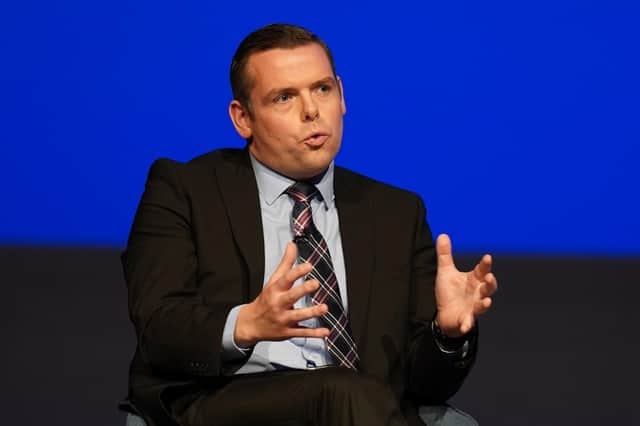 A Scottish Government-led debate on "people's right to choose – respecting Scotland's democratic mandate" is due to take place in Holyrood on Tuesday afternoon, the first day back after the festive break.
Mr Ross used a speech in Edinburgh to set out his priorities for the year ahead, during which he said NHS staff and patients had contacted him over Christmas with "horror stories".
The Tory leader said his calls for Holyrood to be recalled over the festive break to discuss the crisis were ignored, adding: "But fear not - Parliament is back on Tuesday - surely we will be having a meaningful debate on supporting our NHS, our doctors and nurses, our paramedics, staff across the service and delivering for patients.
"Well, you'd hope so. You'd expect so, but no. The SNP/Green Government have scheduled the first debate of the 2023 session about independence.
"There was a time it was almost laughable that they were so obsessed about speaking about separation at every turn. Now as people are lying on hospital floors and dying because of delays in being treated, the SNP negligence is criminal."
Taking questions from journalists, Mr Ross added: "We're starting right now with a crisis in our NHS. We know that there's the potential for our education system to suffer as a result of strike action. We know that there's this global cost of living crisis that is going to continue, we don't know what's going to happen in Ukraine, we don't know what's going to happen for the remainder of the year. We know that our public services are struggling and need more support.
"Yet the first debate we're having in Holyrood is independence. That's the first thing that the SNP and Green Government think is important to speak about in the Parliament just down the road just next week. I think that's completely bonkers, it's absolutely ridiculous and it's not a priority."
Mr Ross said the Tories are "the only party that can deliver change" in Scotland, and repeatedly attacked Labour for being "in lockstep" with the SNP.
First Minister Nicola Sturgeon has vowed to make the next UK general election a de facto referendum, and more details of this strategy are to be disclosed at a special SNP conference in March.
Asked to respond to Mr Ross, the SNP pointed to comments by George Adam, the minister for parliamentary business, before Christmas. He told MSPs he would "never apologise for encouraging Parliament to debate the right of the people of Scotland to choose their own future".