The Scottish Conservative leader will say Prime Minister Rishi Sunak's first couple of months in office have shown "a return to the quiet competency that voters expect from us".
He will also accuse Labour of "playing for Team Sturgeon" and attack the party's voting record in Scotland.
Mr Ross's difficult relationship with Boris Johnson led to some embarrassing moments in 2022. He told the former prime minister to quit over partygate in January, but later U-turned on this position, citing the war in Ukraine. He then voted against Mr Johnson in a confidence vote in June.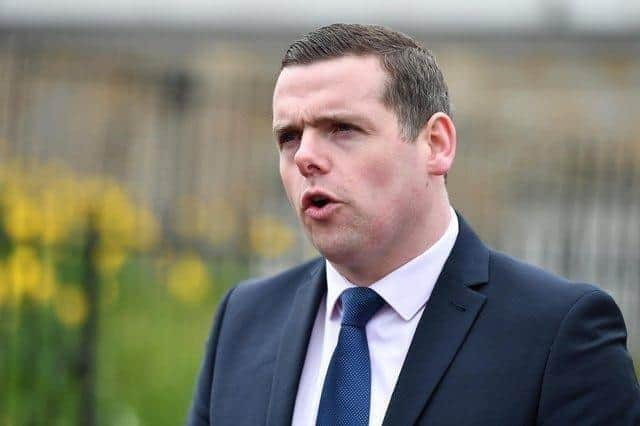 Liz Truss's short tenure in Number 10 also caused problems. Mr Ross initially urged the Scottish Government to match her "bold" tax-cutting plans, before these were abandoned amid a huge economic backlash.
Mr Ross will deliver a keynote speech in Edinburgh today, where he will set out his stall for the year ahead and launch a scathing attack on Scottish Labour.
He will admit last year was "difficult for the Conservative Party across the UK", adding: "To be frank, we haven't lived up to expectations.
"Our focus, as a UK and Scottish party, must be on working to re-earn trust. But Rishi Sunak's first couple of months in office have shown a return to the quiet competency that voters expect from us.
"Decisive action has been taken to support every family with rising energy costs, and our public services have been given the resources they need to offset global inflation.
"This UK Conservative Government is taking the necessary action to get our whole country through these difficult times. Yes, these are early days and there is a lot more work to be done, but I believe we have turned a corner."
Mr Ross will meanwhile say Anas Sarwar's party is part of a "cosy Holyrood consensus" on issues such as gender recognition reform, the Hate Crime Act, rent controls and North Sea jobs.
Scottish Labour pulled ahead of the Tories in polls for Holyrood voting intention during much of 2022.
Mr Ross will say: "Right across our nation, there are so many people crying out for the end of Nicola Sturgeon and this SNP Government. They see failure stacked upon failure and question how any government can survive it.
"Yet Labour are an opposition to the SNP in name only – they only offer more of the same. Anas Sarwar has claimed that he has brought his party back onto the pitch, yet Labour are now playing for Team Sturgeon."
He will also attack UK Labour leader Sir Keir Starmer, saying he "looks to Nicola Sturgeon's Government for inspiration". Mr Ross will say: "There is no need for a post-election pact – a Sturgeon-Starmer alliance already exists. You can't fit a hair between Labour and the SNP.
"Scotland will continue on the path of decline if our choice is between an SNP Government and a Labour Party who will work together and offer the same solutions to the challenges our nation faces.
"There needs to be a viable alternative to the cosy Holyrood consensus. Now is the time for the Scottish Conservatives to get back to the task of building Scotland's real alternative to the SNP – because only we can."
Labour's shadow Scottish secretary Ian Murray said it would "take more than a few New Year's resolutions and a badly delivered speech to make flip-flop Douglas Ross politically relevant".
He said: "His first resolution should be to apologise for backing Liz Truss, Boris Johnson and Rishi Sunak while the whole country looked on in horror.
"As we face another year of economic chaos, Scotland knows that the Conservative Party remains the biggest threat to the Union.
"The catastrophic record of the Tory Government are the SNP's get-out-of-jail card and their number one recruiting sergeant in the campaign to divide the UK. And we know that with the Tories it is always party first, country second – and people are sick of it."
SNP MSP Paul McLennan said: "Douglas Ross only needs to take a look in the mirror to see which party is in cahoots with Labour, given that it was himself and Anas Sarwar who presided over grubby deals between Labour and the Tories after last year's council elections.
"The Tories and Labour are also joined at the hip in their anti-democratic blocking of Scotland's right to choose our own future, just as they were back in 2014. Worst of all, they are cheek-by-jowl on Brexit – each is as bad as the other in ignoring what Scotland voted for and what is good for our economy and society.
"The Scottish Tory leader also needs to reflect on why it's his party that so often finds themselves isolated on the political stage, rather than pointing the finger at everyone else."