Membership plummeted by more than 30,000 between December 2021 and February 15 this year. The SNP revealed the figures following pressure from all three leadership candidates amid a row over transparency.
Humza Yousaf, Kate Forbes and Ash Regan had all called on the party to release details of how many people were eligible to vote in the bitter race to become the next first minister.
The SNP said the total number of eligible ballots was 72,186. It had around 104,000 members in December 2021. Membership has fallen by 42 per cent since its peak of 125,691 in 2019.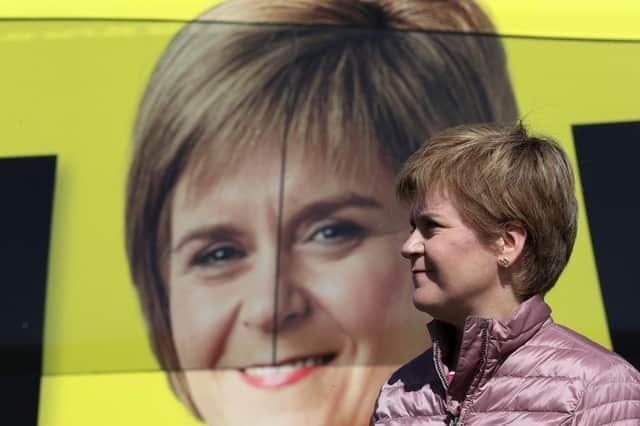 It came as Liz Lloyd, a long-serving aide to Nicola Sturgeon, announced she would leave the Government when the First Minister steps down at the end of the month. It was previously reported that she had been advising Mr Yousaf's campaign in her own time.
"As Nicola Sturgeon's chief of staff and strategic adviser over the last eight years it has always been my intention to leave government when she does," Ms Lloyd tweeted. "It has been the biggest honour of my life to work with the First Minister and to have had a unique opportunity to serve the people of Scotland."
Individual membership of the SNP costs a minimum of £1 per month, although the party's website suggests a fee of £4, £6 or £10. Using this minimum amount, the drop of 31,698 members would have cost the party at least £380,000 in potential annual income.
However, membership for the over-60s and "reduced" membership for students, the unwaged and part-time workers both cost a minimum of £5 a year, which complicates the picture. Membership for under-16s costs a minimum of £2 a year, while overseas membership is a minimum of £3 a month. Lifetime membership can be purchased from £625.
An SNP spokesman said the lost income would "actually be roughly around £220,000" due to senior and reduced memberships. He later said this was the "actual income drop-off".
Earlier, Joan McAlpine, the former SNP MSP, wrote on Twitter: "Worth pointing out that if all these lost members paid the minimum sub of £1 per month, that amounts to £384,000 per annum loss of income for the SNP. In reality it will be higher."
She highlighted the loss of around 10,000 members between December last year and February 15, when the latest figures were recorded, and linked this to Ms Sturgeon's controversial gender reforms. "Interesting the sharp fall since GRR [gender recognition reform] in December," she said.
It came as the Scottish Conservatives wrote to Peter Murrell, the chief executive of the SNP and Ms Sturgeon's husband, to demand he take action after the party rubbished a newspaper story on plummeting membership figures last month.
The Sunday Mail reported 30,000 people had left the SNP, but senior figures in the party's communications team publicly dismissed this as "drivel".
Tory MSP Russell Findlay, who was a journalist before entering Holyrood, said: "Journalists across Scotland ask tough questions and provide a vital public service, but they have long been treated as the enemy by the SNP.
"Alex Salmond declared war on the BBC, yet took cash from [Vladimir] Putin's propaganda channel, Nicola Sturgeon routinely belittled journalists with personal attacks, and the SNP PR machine now resorts to barefaced lies.
"Political spin is one thing, but the SNP's wilful and arrogant peddling of misinformation to the public is in a different league altogether. The SNP fish is rotting from the head and at the top of the party are Peter Murrell and Nicola Sturgeon who clearly think it's acceptable to treat Scots with such contempt."
An SNP spokesman said: "In response to the original media inquiry, our database was interrogated for those who quit over GRR and our response was framed on those 283 individuals. In hindsight, we should have acknowledged the far greater impact of the cost-of-living crisis on our membership numbers."
Elsewhere, Mr Yousaf said he would make Aberdeen the "renewable energy capital of the world" as he met offshore industry representatives in the city. He said he would ensure that all future offshore wind developments had at least a 10 per cent public equity stake, and that no oil and gas worker would be left behind in the transition to renewables.
Mr Yousaf, who was visiting a Wartsila servicing site in Altens, said: "It is time for Scotland to own our green future and my plans will use the powers we have available to cement Aberdeen as a renewable energy capital of the world. Scotland is already a renewable energy powerhouse – we're home to the world's largest leasing round for floating offshore wind, but I will ensure that more of Scotland's energy potential is developed for the public good.
"As first minister, your SNP Government will maximise the deployment of wind, solar and hydro generation on public assets to deliver cheaper energy, create thousands of high quality, sustainable jobs and save money for the public purse. Unlocking this renewable energy potential will secure our energy security and reduce energy bills in the process – putting money back into the pockets of hard-working families."
All three leadership candidates have been holding meetings with John-Paul Marks, the permanent secretary to the Scottish Government, to discuss their plans if they win the race and how the civil service would help deliver them.
Speaking after her meeting, Ms Regan said she would "hit the ground running", adding: "There are huge priorities in both the NHS and with the economy suffering a cost-of-living crisis. We will tackle them and all else with the full power of parliament and government.
"The Permanent Secretary will now ensure the plans I have previously set out are communicated, and the formations of the delivery plan are established. I look forward to working with him following a successful leadership bid."