Fergus Ewing suspended from SNP for one week after disciplinary meeting
The veteran Nationalist said the SNP was no longer putting Scotland first
The Inverness and Nairn MSP – the son of the late SNP trailblazer Winnie Ewing – has been an outspoken critic of the party's leadership in the past year.
The former rural affairs secretary has publicly objected to a number of policies, most notably plans for highly protected marine areas (HPMAs), the deposit return scheme and the Scottish Government's deal with the Scottish Greens.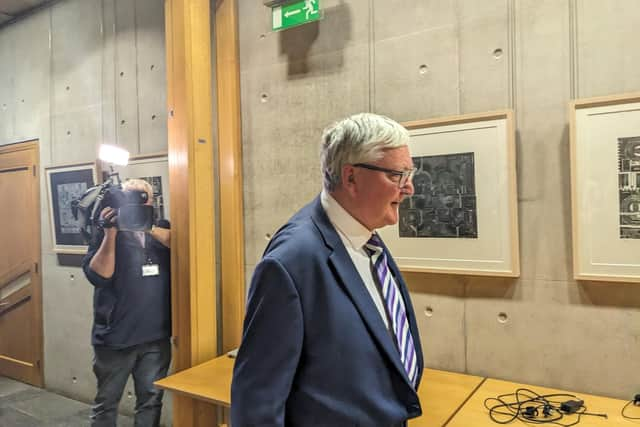 Before the summer recess, Mr Ewing voted with the opposition in favour of a motion of no confidence in Green co-leader and Government minister Lorna Slater.
In a vote on Wednesday evening, 48 MSPs – minus First Minister Humza Yousaf who returned home due to illness before the vote – backed the one-week suspension, which will see the MSP sit as an independent for the duration.
Nine of his colleagues voted against the sanction and four abstained.
After the vote, Mr Ewing said the SNP is no longer "putting Scotland first".
Flanked by his sister and fellow SNP MSP Annabelle Ewing, former leadership contender Kate Forbes and MSP Christine Grahame, Mr Ewing said: "I bit my tongue when I didn't agree with certain policies the party was was promoting."
He added: "I did so because I thought fundamentally that the party that has been such a big party of my life was fundamentally proceeding in the right way for Scotland – standing up for Scotland.
"The SNP is not an ordinary party – we are a party that has always put Scotland first, and that means to me, putting the interests of the people of Scotland first.
"But in good conscious, and it grieves me to say this, I don't believe that is any longer the case."
Mr Ewing pointed towards polices with which he has disagreed in the past two years, including the deposit return scheme and highly protected marine areas.
Comments
 0 comments
Want to join the conversation? Please or to comment on this article.