Just 24 hours after being sworn in as First Minister, Mr Yousaf was questioned on why his Government had no-one specifically signed to the social security and tourism briefs, but had a minister for independence.
Jamie Hepburn was appointed to the independence brief under the Cabinet reshuffle triggered by Nicola Sturgeon's resignation, with the move fulfilling a campaign pledge made by Mr Yousaf.
Scottish Tories leader Douglas Ross said Mr Yousaf had promised to be a First Minister "for all of Scotland", but had failed at the first test.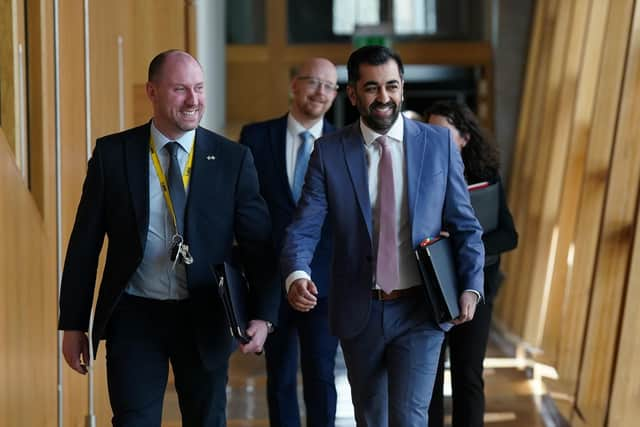 He said: "This is the largest government since devolution, with more ministers than ever before. But key ministerial posts relating to social security and tourism were abolished, yet a new minister for independence was created. Does the First Minister really believe that appointing a taxpayer-funded nationalist campaigner is governing for all of Scotland?"
Mr Yousaf responded: "Yes, I make no apology whatsoever for having a minister for independence beccause my goodness, we need independence now more than ever before. We need it now more than ever before because in energy-rich Scotland, we have Scots who are fuel poor because of the UK Government's policies. We need independence now more than ever before because we have more foodbanks in this country than at any other time than ever before because of over a decade of austerity."
The lively exchange came as Presiding Officer Alison Johnstone was forced to suspend proceedings on three occasions due to protests shouting from the public gallery.
One of those disruptions came immediately after Mr Ross said: "I found myself in the bizarre place that I was actually hoping there might be another intervention from the gallery just to stop that long rant from Humza Yousaf that didn't address the question at all."