The First Minister accused Scottish Conservative leader Douglas Ross of "clutching at straws" as her opponent repeatedly asked in Holyrood on Thursday whether Ms Sturgeon and the Government would be published the report this week.
Bryson – born Adam Graham – was moved from Cornton Vale women's prison in Stirling to HMP Edinburgh last month following a public backlash. A temporary ban on trans prisoners with a history of violence against women being moved to female facilities was subsequently announced by the Scottish Government.
The review was due to be delivered to Scottish Prison Service (SPS) chiefs on Friday, Mr Ross said, but he stressed nothing further had been heard.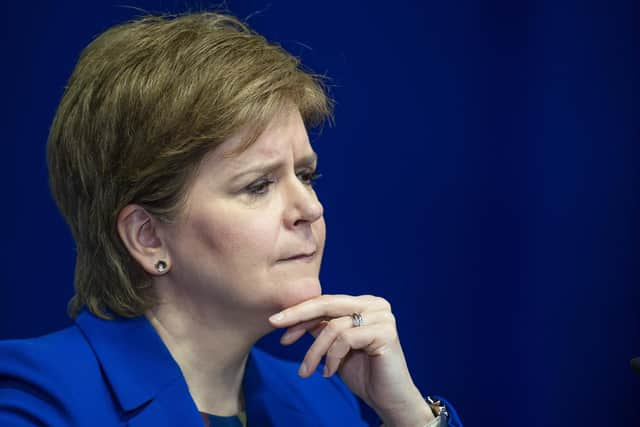 He said at First Minister's Questions: "The case of this double rapist has been a huge scandal, but the public are in the dark about exactly what happened and who was involved. So will the First Minister publish the urgent review in full today?"
Ms Sturgeon confirmed the SPS report had been delivered to justice secretary Keith Brown on Wednesday. She added: "The chief executive of the Scottish Prison Service met the justice secretary in the course of a regular meeting scheduled yesterday to discuss that. The Cabinet secretary has already confirmed he will update the criminal justice committee this week, and both the Cabinet secretary and the SPS chief executive are due to attend the justice committee later in February, where of course members of this Parliament will be able to ask questions. So there will be full transparency about the findings of that review as is right and proper."
Mr Ross responded: "I asked the First Minister a very direct question and I don't get an answer."
Ms Sturgeon later accused Mr Ross of trying to use "gotcha" questions and suggested he take advice from former Scottish Tories leader Ruth Davidson. The First Minister said: "On the report, Presiding Officer, I really do think Douglas Ross is clutching at straws in his follow-up question. I made very clear the findings of the report will be published."