Kemi Badenoch claimed the order was devised with Scottish MSPs as part of the Scotland Act and argued the trigger's use in certain circumstances should have been expected.
Appearing before the women and equalities committee in Westminster, Ms Badenoch also claimed ministers expressed concerns to Scottish officials over the Bill before blocking the legislation.
The UK Government blocked the Bill earlier this year, citing adverse effects on gender recognition certificates across the UK, increased risk of fraudulent applications, and the legislation's impact on the Equality Act 2010.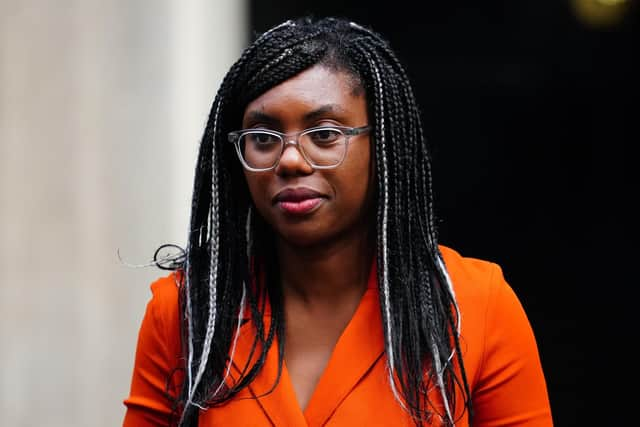 Asked if this undermined the Scottish Government's ability to draught legislation, Ms Badenoch insisted it did not. She explained: "The section 35 is part of the Scotland Act. It was something that was devised along with Scottish members of Parliament across all parties, it's part of the devolution settlements and it is a break that's never been used before.
"This was quite a significant intervention, but it's been clear since that intervention, that the public opinion is on the side of the UK Government, not the Scottish Government."
Challenged on how this was measured, the Conservative minister pointed to the recent controversy over comments made by SNP leadership contender Kate Forbes on the subject.
She said: "As you can see during the reactions of their leadership contest, which I won't go into because it's not my business, that public opinion is on the side of the UK Government."
MPs also heard UK ministers had expressed concerns over the legislation, which would have made it easier for trans people to obtain a gender recognition certificate (GRC) by removing the requirement for a diagnosis of gender dysphoria, as well as lowering the minimum age for applicants from 18 to 16 and dropping the time required for an applicant to live in their acquired gender from two years to three months.
Ms Badenoch said: "We believe in a devolution and we could see that there were very clear attempts from within the Scottish Parliament across, all parties, to try and look at issues that were raised about the Bill and how it would impact the general UK settlement on the Gender Recognition Act and that should have been sufficient.
"We saw many amendments which would have been quite helpful or rejected and I had a call with [social justice secretary] Shona Robinson – I know the Secretary of State for Scotland also had calls with his counterpart – where we expressed concerns about that policy in general terms. But in terms of trying to intervene to stop it getting to a section 35, that is the responsibility for the Scottish Government, not for us."
The former Tory leadership contender also revealed there had been no further conversations about how the Scottish Government could move forward with gender recognition reform.
She said: "Given that they've threatened legal action, any possible thing I do could end up being relevant to the legal case so it's up to them to reach out and we haven't had any representations on looking at the Bill."