Energy security secretary Grant Shapps has announced a series of measures to help make the UK more self-sufficient following the Russian invasion of Ukraine.
This includes a world-leading commitment to carbon capture usage and storage.
The UK Government said, at this stage, it considers the Acorn Transport and Storage System in Aberdeenshire one of the two best placed to deliver its objectives.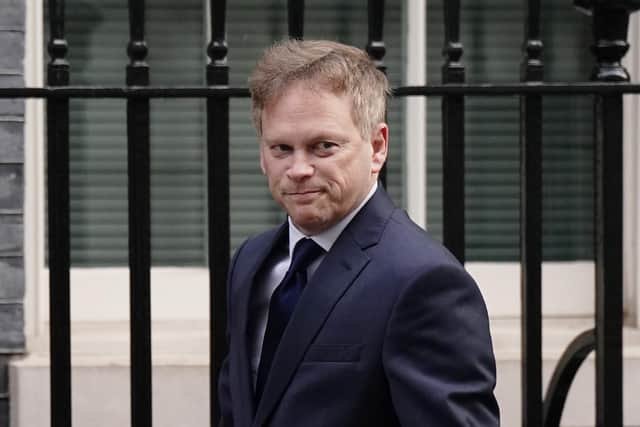 It comes after £20 billion the capture usage and storage (CCUS) cluster sequencing process was announced in the Spring Budget.
The Aberdeenshire site had missed out on UK Government support back in 2021, but ministers had previously hinted it was back under consideration.
Earlier this month, Westminster's Scottish affairs committee claimed the Acorn Project could hold the key to the technology being rolled out at scale across the UK and urged Chancellor Jeremy Hunt to support it.
However, SNP Westminster leader and Aberdeen South MP Stephen Flynn said the announcement felt more like "Groundhog Day", stressing there remained a "complete lack of credible detail on when the Acorn project will be given the green light to progress".
"While the US and EU pump cash into green investment and carbon capture technology, the Tories can't even get their act together on the long promised, yet continually snubbed, Scottish cluster," he said. "This plan is a mere drop in the ocean compared to what's required.
"Scotland is blessed with vast natural resources and we have a real opportunity to harness the skills here to deliver a just transition, but what we need to move forward and what the UK Government wants are two very different things, including their misguided, and expensive, focus on nuclear."
Mr Shapps will announce plans that include launching a £160 million fund to support port infrastructure projects, securing the UK's leadership in this new technology.
There is also backing for the first tranche of new green hydrogen production projects under the £240m Net Zero Hydrogen Fund, opening the fifth round of the scheme to incentivise investment in renewable electricity, and reforming the planning process to enable the building of energy infrastructure, including solar power and offshore wind projects, more quickly.
Mr Shapps will also announce measures on electric cars, insulation and steps to reduce the UK's reliance on fossil fuels to heat buildings.
However, both Labour and the SNP already criticised the announcements, claiming they were simply policies being re-announced.
Prime Minister Rishi Sunak claimed the move was an important response to rising bills and the war in Ukraine. He said: "We have stepped in to shield people from its worst impacts by helping to pay around half the typical energy bill. But we are also stepping up to power Britain and ensure our energy security in the long term with more affordable, clean energy from Britain, so we can drive down energy prices and grow our economy.
"That's why we're driving forward plans to boost renewables, revive nuclear and build new thriving industries like carbon capture, which will in turn create good jobs across the country, provide new opportunities for British businesses at home and abroad, and maintain our world-leading action to reach net zero."
Mr Shapps said:  "We have seen over the past year what can happen when global energy supplies are disrupted, and a tyrant like [Russian president Vladimir] Putin uses energy as a weapon.  Access to cheap, abundant and reliable energy provide the foundation stone of a thriving economy with our homes and businesses relying on it to deliver our future prosperity.   
"Following our unprecedented cost of living support this winter, which continues, this plan now sets out how we fix this problem in the long term to deliver wholesale UK electricity prices that rank amongst the cheapest in Europe, as we export our green growth expertise to the world."   
Mr Hunt said: "Transforming our energy system is no longer just about tackling climate change, it is also a matter of national security. To protect ourselves from future price spikes, we need to accelerate the move to cleaner, cheaper, home-grown energy."
However, Labour claimed the plans were simply "reheated" policies already announced by the Government.
Ed Miliband, Labour's shadow climate and net zero secretary, said: "What was billed with huge hype as the Government's 'green day' turns out to be a weak and feeble Groundhog Day of re-announcements, reheated policy, and no new investment.
"This confirms once and for all that, after 13 years of failed energy policy, that Britain under the Conservatives will be stuck with higher energy bills, energy insecurity, lost jobs and climate delay.
"These announcements are most notable for their glaring omissions: no removal of the onshore wind ban which is costing families hundreds of pounds on bills , no new investment for energy efficiency which could cut bills and imports, no response to the Inflation Reduction Act which could help Britain win the global race for clean energy jobs.
"This is a Government out of ideas, out of touch and out of time. Only Labour has a mission to make Britain a clean energy superpower with a plan for zero-carbon power by 2030 and GB Energy, our publicly-owned energy company, which will cut energy bills, strengthen our energy security, and create hundreds of thousands of quality jobs across the country."
Mr Flynn claimed the plan was a "mere drop in the ocean compared to what's required".
He continued: "This was trailed as 'green energy day' but it feels more like 'Groundhog Day' with a complete lack of credible detail on when the Acorn project will be given the green light to progress. You really are left to ponder what exactly the point was in this so called 'announcement'."