The dispute centres around remarks made by Ms Braverman during a Commons debate on the UK Government's controversial Illegal Migration Bill on March 7, where she was asked by SNP MP Peter Grant if she would consider a temporary pilot to grant powers to the Scottish Government over asylum issues.
Mr Grant told her: "The fact is that Scotland's MPs, Scotland's Government, Scotland's local authorities and Scotland's people speak as one in saying that our biggest complaint about the UK asylum system is that her Government will not allow us to welcome as many refugees and asylum seekers as we want to."
But Ms Braverman replied: "All the Scottish National Party can point to is a track record of failure when it comes to discharging its humanitarian duties to asylum seekers. It totally failed to support Ukrainians and had to hand over responsibility to the UK Government. It totally failed to take its fair share of refugees in comparison to other parts of the UK. It is failure, failure, failure from the SNP."
During the same debate, Ms Braverman also responded to Mr Grant's SNP colleague, Stewart McDonald, in which she stated "Scotland currently takes one of the lowest numbers of asylum seekers in our United Kingdom".
Now, Shona Robison, the Cabinet secretary for social justice, housing and local government, has written to Ms Braverman, as well as the Commons speaker, Sir Lindsay Hoyle, singling out those contentious remarks, and asking her to correct her comments.
The correspondence, seen by The Scotsman, also renewed calls for the Home Office to change the way it deals with asylum dispersal, and reiterated concerns about the accommodation used for people seeking asylum.
In her letter, Ms Robison said: "Although immigration and asylum are entirely reserved to the UK Government, we remain committed to providing support and assistance to all those seeking safety and sanctuary in Scotland, and will do our utmost to support people to make Scotland their home.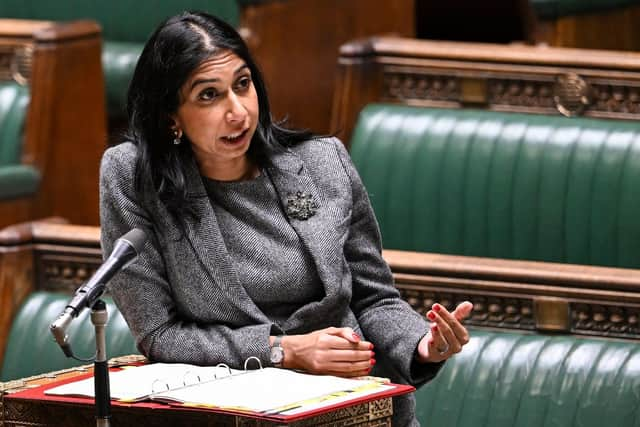 "In contrast to what you asserted, official statistics show that Scotland has provided sanctuary to more displaced people from Ukraine per head of the population than any other part of the UK. In addition – and in contrast [to] the UK Government's approach – we have opted to act as a super sponsor for displaced people from Ukraine, providing a fast and safe route to sanctuary for 23,000 people – the most per head of population of any of the four nations."
Ms Robison's letter asks Ms Braverman to "ensure the official record is amended", and to confirm when the changes have been made.
Last month, outgoing first minister Nicola Sturgeon told Ukrainian refugees living in the country that Scotland will be their home for as long as they need it to be. In an open letter, she wrote: "While I hope those of you who want to return to Ukraine can do so safely when you can, my message to those seeking sanctuary remains clear: Scotland is your home for as long as you need it to be."
A spokesman for the Home Office said: "Immigration is a UK government reserved matter and the points-based immigration system works in the interest of the whole of the UK.
"Our immigration system allows the UK to provide refuge to those in need and last year, we welcomed hundreds of thousands of people to the UK following the brutal war in Ukraine and the evacuation of Afghanistan.
"More than 70 per cent of local authorities across the UK currently house asylum seekers as part of the asylum dispersal scheme, whilst in Scotland this is just 21 per cent - seven of the 32 Scottish authorities. We are grateful to them but other councils need to step up and play their part too."