It came as the three SNP leadership contenders went head-to-head over a range of issues including the economy, health service and education system during the last TV debate in the race to become Scotland's next First Minister.
During the BBC Debate Night special, Mr Yousaf, who is seen as the establishment-backed candidate, apologised to a woman whose husband had been told it will take between three and six years for a knee replacement. He said: "Well firstly, can I apologise to you because you shouldn't have to wait that length of time for your operation.
"But what I would say, and I know this is a hard message, that the Covid pandemic that has lasted for the last three years has been the biggest shock that our NHS has faced, not just here in Scotland but right across the world.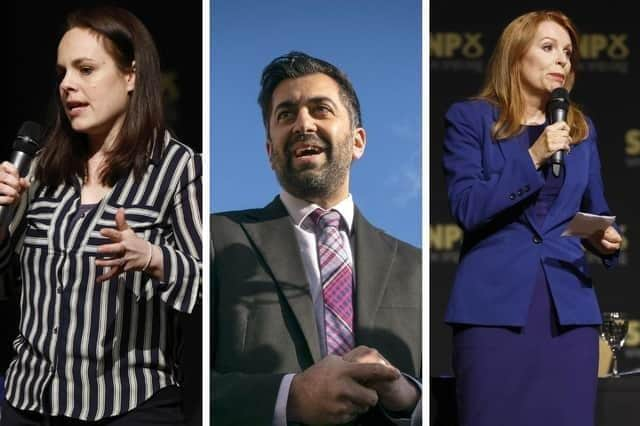 "But what I can give you an absolute promise is that not just myself as Health Secretary, but the entire government, is focused on reducing those waiting lists. Now, we're starting with those who are waiting the longest, we've managed to reduce those lists by about 25 per cent for those waiting longest, but we have to go further.
"And that's why I am a proponent of progressive taxation, it's why I believe people who can earn the most – often like government politicians – we should pay the most because that allows us to invest, for example in 23/24, a billion pounds extra."
Asked if he can understand why the audience member whose wife asked the question was considering going private, Mr Yousaf added: "Of course I can. I wouldn't have any humanity if I couldn't understand that. I would want the NHS to look after you in the same way it would look after my mother or my father."
Finance Secretary Kate Forbes, Mr Yousaf's main leadership rival, said the wait was "unacceptable" while former minister Ash Regan said Scots "pay into the system" and "expect a certain level of service" from the NHS.
Elsewhere, Mr Yousaf, a former transport minister, was quizzed on the decision to award a contract for two new lifeline ferries to the Ferguson shipyard on the Clyde – with the contract now both over time and over budget.
He said: "It is unacceptable. We have got to put our hands up where we have not delivered, on those two ferries we let our island communities down. It is not acceptable and of course the whole of government has to take that collective responsibility."
He added: "There has been challenges at Ferguson's, but I don't regret the decision for a minute to save hundreds of jobs on the Clyde."
However, he accepted the fiasco around the construction of the boats had "not been the government's finest moment".
The TV debates have been characterised by some fiery exchanges between Mr Yousaf and Ms Forbes, with the latter previously trashing the Health Secretary's record in government.
During the BBC debate, Ms Forbes accused Mr Yousaf of "pretty desperate spin" as he tried to paint her pause to a controversial scheme as right wing. Ms Forbes has advocated the pause of the deposit return scheme (DRS) if she becomes First Minister, which Mr Yousaf claimed would be "letting big business off the hook".
Mr Yousaf advocated for an exemption from the scheme for small businesses. In a testy exchange, Ms Forbes said: "I think it's perfectly progressive to represent small businesses, because small businesses are indeed the backbone of our Scottish economy. That is not a lurch to the right, that is pretty desperate spin."
Responding, Mr Yousaf said: "I think you're appealing to big business by letting them off the hook in a really important scheme, because climate is so important to all of us."
Meanwhile, all three leadership candidates said they believed Scotland can be independent within five years.
The audience of 100 members of the public, who watched the debate live at Edinburgh's Mansfield Traquair venue, was split between those who were pro-independence and those who favoured the union.
Earlier, Scottish Green co-leader Patrick Harvie intervened in the leadership race by taking a swipe at Ms Forbes over her comments on LGBT conversion therapy.
During the Sky News debate on Monday evening, Ms Forbes stopped short of saying she would bring in a complete ban on conversion therapy – including the voluntary use of the practice – but described it as "abhorrent". She said: "I think people should be allowed to live freely as they choose and I don't think there should be conversion therapy in existence in Scotland."
Asked if a gay man should be allowed to seek conversion therapy to change his sexuality, Ms Forbes said: "Well, it's his choice, but I do not think we should allow conversion therapy."
Mr Harvie said: "Anti-LGBTQ+ conversion practices are abhorrent and abusive by nature. There is no such thing as a non-coercive conversion practice and never can be.
"Anyone who argues that people should be able to consent to this form of abuse is clearly failing to understand the issue. Nobody should be told that they are not good enough or that they should be ashamed of who they are.
"The Bute House agreement between the Scottish Greens and the Scottish Government committed to a watertight ban on all conversion practices. That is what we believe in and is the commitment we would seek from any new First Minister.
"Anything less than a full and unequivocal ban would go against that agreement, which was overwhelmingly supported by the membership of both parties. Equality is, and always will be, central to our party and our vision for Scotland."