Mr Yousaf – who received a boost when the first poll of SNP members gave him a narrow lead over his closest rival, Kate Forbes – said the outgoing First Minister is hugely respected internationally.
He made the comments during an SNP hustings in Glenrothes, which saw the three candidates for the party leadership set out their stalls to members.
Asked about building international support, Mr Yousaf said: "If I'm leader of the SNP, I will ensure we have a permanent SNP presence in Brussels. We have a Scottish Government office, but that's different; it can't be political. I think we need to have people on the ground in Brussels, who again, when the time comes to rejoin the EU – by the way, we should have no equivocation about that, we must rejoin the EU as an independence country – a permanent presence in Brussels will help to lay the groundwork to do that.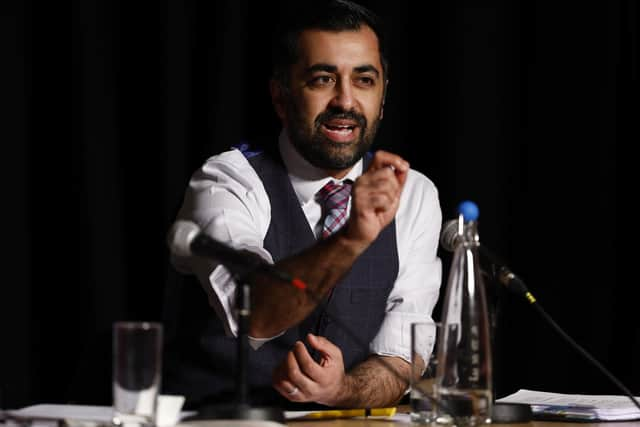 "We've got to keep reiterating, repeating that message about how an independence Scotland would be a positive force in the world. And I've not asked her yet, but I can't think of anybody better to be that global ambassador than a certain Nicola Sturgeon. She is hugely respected internationally."
Earlier, Mr Yousaf, who is currently the health secretary, told members there is no "ruse" that will achieve independence. He said the party must demonstrate sustained support for leaving the UK.
Ms Forbes, the finance secretary, also said her approach was focused on driving support to shift the dial "in a meaningful way".
Ms Regan, the self-confessed outsider in the race, outlined her plan to run every election "as an opportunity to test Scotland's will". She suggested Westminster would have to accept this, but her proposal appeared to receive short shrift from much of the audience.
A poll of 515 SNP members, carried out by Savanta for the Daily Telegraph between February 23 and March 1, showed 31 per cent backed Mr Yousaf for the top job, 25 per cent favoured Ms Forbes and 11 per cent supported Ms Regan. A total of 32 per cent said they did not know who they would vote for.
Ms Forbes suggested she is the candidate the opposition parties fear most. She told the event in Glenrothes: "The question for all of us is this: how do we win? Because if the stakes are high, we need to be clear.
"And I think the other question for all of us is this: what does our opposition fear right now? Who is the leader that they fear the most? The leader with the greatest potential to attract more support to our cause, and to persuade those who are not yet persuaded of independence of the importance of independence?"
The three candidates will take part in seven more hustings for SNP members, as well as a number of TV debates, before a new leader is announced on March 27.