The former SNP Westminster leader now acts as his party's business ambassador and is supervising plans to create economic growth.
The MP for Ross, Skye and Lochaber has appointed Sir Martin Donnelly, former permanent secretary at the Department for Business Innovation and Skills, and Professor Dominic Houlder, from the London Business School, to act as independent experts.
In their roles, they will identify key opportunities to boost Scotland's economic productivity.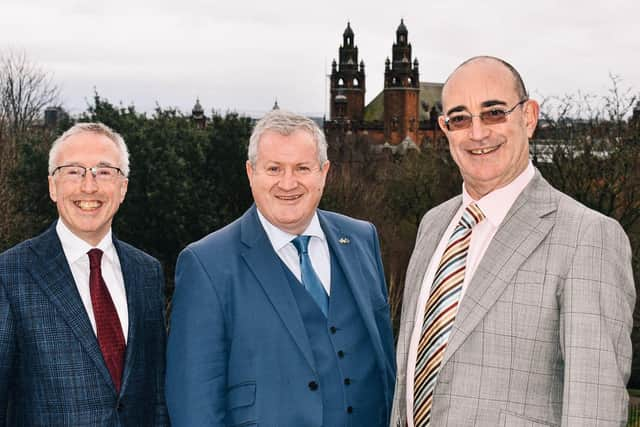 Speaking in Glasgow on Tuesday ahead of meetings with business and academic leaders, Mr Blackford said the "roadmap" will help policymakers change the "landscape for green, industrial development in Scotland".
He said: "Global moves towards decarbonisation give Scotland an enormous opportunity to be at the forefront of the green industrial revolution, building on our existing strengths in technological innovation, research and development. But in order to maximise the benefits of that unrivalled potential, we need the right infrastructure in place and we need to create the right environment for investment.
"I am delighted that Sir Martin Donnelly and Professor Dominic Houlder have agreed to undertake this piece of research. As part of that process, they are in Edinburgh and Glasgow this week to conduct a series of interviews with key stakeholders in the business and academic communities. They will present their conclusions in an independent report later this year."
After standing down last year, the high-profile SNP figure took on the role of business ambassador, and claimed he would be able to fully dedicate himself to making the case for Scottish independence to businesses.
In his new role, Mr Blackford will work with the business community and others to plan how Scotland could exit the United Kingdom and later join the European Union.
Speaking to The Scotsman at the time, he claimed to be "frustrated by the ongoing arguments about the process" and said he "desperately" wanted to get into a debate about what type of country Scotland could be.
He said: "Life opportunities are limited and I've realised this change is releasing myself so that I can engage more meaningfully in that debate. If I'm right about where that potential lies, about how you create the wealth to drive up living standards and deal with ingrained social problems that we've suffered from, if stepping down gives me time to do that, then maybe some good comes from it."
The roadmap organisation was also welcomed by the independent experts forming it.
Sir Martin said: "Under any political scenario, unlocking Scotland's potential as a high value added, high-productivity economy is critical, and I look forward to meeting with stakeholders over the coming days."
Professor Houlder said: "Scotland has an internationally recognised competitive strength in higher and further education. We will be meeting with academic leaders, entrepreneurs, and leaders of large businesses to assess how cutting edge research and development can be leveraged more effectively, identify constraints to faster growth, and suggest ways to create a more enabling environment for investment."