Mr Hunt confirmed he was dropping the threshold at which people pay the highest 45p rate of tax from £150,000 to £125,000. The change will only apply south of the border, with the Scottish Government setting separate tax rates.
The income tax personal allowance threshold will be frozen until 2028 in the UK outside of Scotland, the Chancellor also confirmed. The decision will mean millions of people end up paying more in tax, given pay is expected to go up while tax bands remain the same.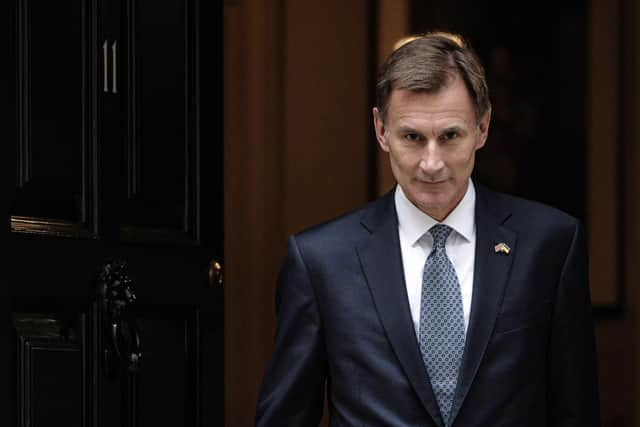 Mr Hunt also confirmed the windfall tax levied against the energy industry would be lifted from 25 per cent to 35 per cent, but he only committed to the increase until March 2028.
And he revealed help for energy bills would be extended from April onwards next year, but it would be less generous. The Government's price energy guarantee cap is due to end in April 2023.
Electric vehicle owners will also have to pay road tax from 2025.
Mr Hunt confirmed the Government would stick to honouring the pensions triple lock. Pensions will rise in line with September's inflation rate of 10.1 per cent. Means-tested benefits, including Universal Credit, will also rise in line with September's inflation figure of 10.1 per cent from next April,
Mr Hunt also stressed the Government would commit to at least 2 per cent of GDP going towards defence spending, amid the war on Ukraine. The announcement is a partial rollback, with the Government having previously said it would up its defence spending target to 3 per cent of GDP by 2030.
Mr Hunt confirmed the Government remained fully committed to the historic Glasgow climate pact agreed at COP26, including a 68 per cent reduction in emissions by 2030.
The National Living Wage will be increased from £9.50 an hour for over-23s to £10.42 from April next year. The Sizewell C nuclear plant earmarked to be built in Suffolk is also going ahead, it was confirmed.
Mr Hunt argued he was representing a "compassionate" Conservative Government, stressing there were three key priorities – "stability, growth and public services" – as he declared the OBR had confirmed "global factors" were the driving force hurting the UK economy.
The Chancellor confirmed he would not change the Bank of England's remit. He said he understood the "motivation" of his predecessor – former chancellor Kwasi Kwarteng – but said "unfunded tax cuts are as risky as unfunded spending, which is why we reversed the planned measures".
The Chancellor's autumn statement was unveiled after further rises in gas and electricity bills sent UK inflation to its highest level for 41 years.
In the build-up to the statement, Frances O'Grady, general secretary of the Trades Union Congress (TUC), had warned against the dangers of austerity. Speaking on BBC Radio 4's Today programme ahead of the Chancellor's autumn statement, she said tough spending cuts were "never easy for working people".
Ms O'Grady said former chancellor George Osborne's austerity plan had "failed", amid expectations Mr Hunt would preside over similarly painful cuts. "We have been suffering weak growth as a country ever since, because it was killing the golden goose," she said.