Since launching her leadership bid, however, Ms Forbes has criticised the bill and said she would not have been able to have voted for it had she been in Holyrood and not on maternity leave.
This would have resulted in her breaching collective responsibility among cabinet ministers, obliging her to resign from government. She has remained finance secretary.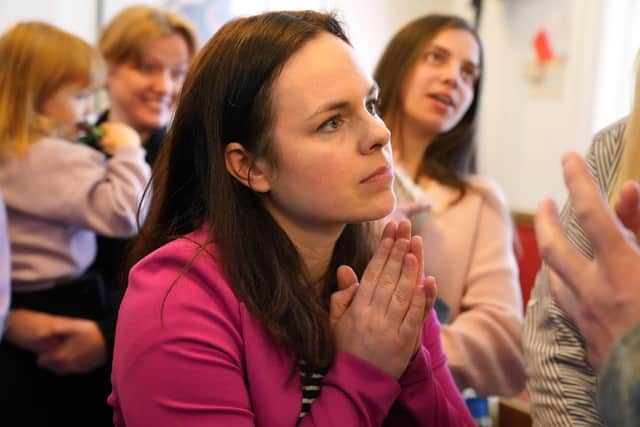 It is understood the decision to progress the gender recognition Bill was brought to Cabinet at a virtual meeting chaired by the First Minister on January 18 last year.
Ms Forbes, who was in attendance, did not object to the Bill, but did speak about the general controversy around the legislation.
A senior SNP source said: "Kate has framed this as an issue of conscience. That may be true, but if so she has to explain why it wasn't when she sat around the Cabinet table and agreed this Bill.
"The inconsistency of her position is difficult to square. She will doubtless face the charge that had she objected and Cabinet still agreed the Bill, she would have been obliged to resign."
Speaking to reporters at a campaign event in Glasgow, Ms Forbes was asked whether she would have been obliged to resign, she said: "Were you in Cabinet?"
Asked again if the account was false, Ms Forbes said: "I am asking if you have access...cabinet a confidential space for discussion and so the conversations that we have in cabinet are confidential.
"I think that the approach that I have taken to GRR is pretty consistent over the last few years and there is probably more comments attributed to me in the public domain when it comes to GRR than many others."
Pressed on whether cabinet ministers who disagree with government policy and then later criticise it should be obliged the resign, the finance secretary said that "collective responsibility does apply".
"Certainly my comments prior to going on maternity leave have been fairly consistent. Obviously timetabling, I didn't predict the date on which my daughter would be born, neither did I predict the date at which the parliamentary discussion would take place."
Asked again whether she was denying the reports she backed the gender bill at the cabinet table, she repeated that cabinet discussions are "confidential", before stating in response to the suggestion that was a non-denial denial that "I'm afraid that's all you're going to get from me because cabinet discussions are confidential."
Asked whether she was pro the gender bill on the date the bill was approved by cabinet, she said: "My views have always been consistent.
"I've always been supportive of reforming the gender recognition act and I believe it could be reformed in a way that both gave confidence to women and girls as well as avoiding further stigmatising the trans community.
"I think there is a way forward on that."
The Scottish ministerial code states: "Where a minister considers that he or she cannot support a decision reached collectively by the Scottish Government and wishes publicly to dispute that decision, the minister in question should consider whether it is appropriate to resign from his or her ministerial role."
Want to hear more from The Scotsman's politics team? Check out the latest episode of our political podcast, The Steamie.