The finance secretary came under scrutiny during the Channel 4 debate on Thursday around her personal views on equality issues, urging voters and SNP members to judge her on her track record as finance secretary.
This, however, was not enough, her closest rival Mr Yousaf said.
Asked by reporters whether her decision to vote against the gender reforms had she been in Holyrood as the gender recognition reform bill was passing through the parliament demonstrated her track record couldn't be trusted, Ms Forbes said "what matters is what I've done", adding "what matters is for three years I delivered budgets that enshrined fairness at its heart.".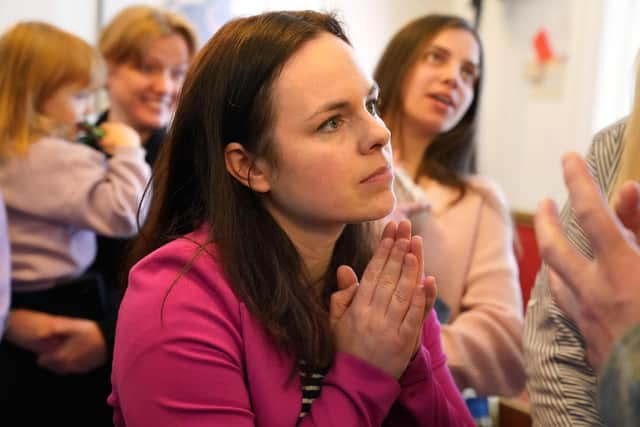 Pressed on whether her opposition to gender reform was meaningful or not given her opposition was hypothetical, Ms Forbes was asked whether she believed her opposition to that bill mattered when voters looked at whether she was willing to defend and fight for the rights of trans people.
She said: "[The rights] of women and girls, and trans people, indeed.
"It is important that people continue to uphold the legal protections that are in place right now for everybody in Scotland and also as any good legislator, you need to ensure that laws don't have unintended consequences and take that into account. That is precisely where the GRR bill was getting to when it came to the amendments that were made, for example increasing some of the safeguards around young people. I don't think that's too dissimilar from where the debate was already.
"If I had been in parliament at the time I would have participated fully in the discussions in the debate as you regularly remind me I did in Cabinet. Therefore the job would have been to work with the government within government to ensure the law both gave protections to women and girls as well as ensure it did not stigmatise the trans community further.
"There's a lot of hypotheticals in these questions, I think ultimately what matters is what I've done in government and what I've done in is deliver budgets that don't make distinctions on the basis of prejudice."
Asked whether he trusted his rival's commitment to upholding LGBT rights and fighting for them despite Ms Forbes' opposition to GRR, Mr Yousaf said that issue had "hit the nail on the head".
He added: "The issue isn't about what you do as finance secretary to fund certain LGBT groups for example, it is when those rights come under attack, if they do, will the First Minister defend them?
"My position on that is clear, people can judge what Kate's answers are."
The comments come as senior SNP figures including deputy Westminster leader, Mhairi Black, and three Holyrood ministers, signed a letter stating they believed Mr Yousaf was the "only" candidate who would "protect, strengthen and celebrate" LGBT rights.
Signatories included transport minister Jenny Gilruth and social care minister Kevin Stewart.
The letter said: "We, the undersigned, feel that any candidate for First Minister and leader of the SNP must be unambiguous and committed in their support for Equal Marriage rights, protecting the LGBTQ+ community from targeted hate crime, defending trans people and ending conversion practices.
"Humza Yousaf is the only Leadership candidate who has committed to protect, strengthen and celebrate all of the rights noted above and has given an unequivocal assurance that he will end conversion practices in Scotland as First Minister."
Campaign group End Conversion Therapy Scotland also took to social media to outline their disappointment at Ms Forbes' failure to respond to a letter on the planned ban of conversion therapy.
They said: "We are profoundly disappointed that Kate Forbes has still not responded to our letter asking her to commit to a comprehensive conversion therapy ban.
"Her public comments have left us with serious doubts about her commitment to protect all LGBTQ people from this wicked practice."
Want to hear more from The Scotsman's politics team? Check out the latest episode of our political podcast, The Steamie.