Labour ready 'to lead' constitutional debate in Scotland, says Richard Leonard
Labour in Scotland are the only real guardians of devolution and will be at the heart of a party review of the UK constitution being unveiled this week, Richard Leonard has said.
The party is ready to "lead the debate" on constitutional change in Scotland, he added, as demands for a second independence referendum look set to dominate next year's Holyrood election.
Mr Leonard revealed he has been urging Sir Keir Starmer to press ahead with plans for a constitutional convention-style body to formulate Labour's commitment to greater powers for the Scottish Parliament ahead of next May's powderkeg vote.
Former prime minister Gordon Brown has already been touted as a chair of the convention.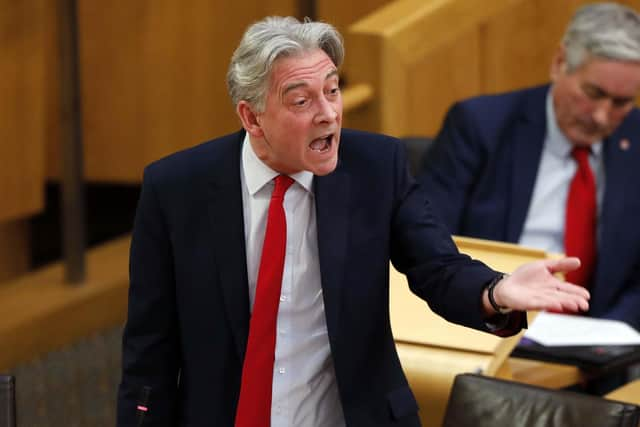 Radical proposals for the "future modernisation" of the British constitution will be set out by Sir Keir in a keynote speech this week.
Although covering the whole of the UK, including abolition of the House of Lords, it will be partly aimed at addressing the growing support for independence north of the Border, which now sits at 58 per cent.
"The Scottish Labour party will play a leading role in shaping that," Mr Leonard said.
"One of the things I've said to Keir is that it's important to move away from the position that the Labour party previously had, which was that once a Labour Government is elected we should up a constitutional convention.
"All our experience in Scotland in the 1980s and 1990s was to use the time in opposition to work out the blueprint for devolution, so that through the Scottish Constitutional convention - working with civic Scotland, other political parties, the trade unions - we were able to reach a consensus around that where the distribution of powers between Westminster and the Scottish Parliament would be so that when it came to the referendum in 1997 people had a very clear view about what it was they were voting for.
"We want, as a Scottish Labour party, to lead that constitutional reform debate inside the UK."
The desire for change is UK-wide in Labour with Welsh First Minister Mark Drakeford, as well as Manchester mayor Andy Burnham and his Yorkshire party counterpart Dan Jarvis, also pushing for greater "decentralisation and devolution and a modernisation of the UK", Mr Leonard said.
Labour established the Scottish Parliament in 1999 and has been instrumental in enhancing its powers over the years, initially by setting up the Calman commission a decade later.
That was when the party was Scotland's dominant political force - a role that was long ago seized by the SNP.
With polls suggesting that Nicola Sturgeon is on course for a majority at Holyrood in May's election, fuelling calls for a second independence referendum, Mr Leonard knows his party must make it itself relevant to a new generation of Scottish voters.
But he said he believed Labour's pro-devolution platform, pledging to make the Scottish Parliament work, still accords with with the views of most Scots.
"People talk about polls quite rightly, but polls also indicate that whilst people may support independence, they do not see that as a priority in the near future," he said.
"They see it as a priority tackling some of those fundamental economic, and health and public service challenges which the Parliament has got to face up to.
"It would be a dereliction of its duty not to tackle those as its absolute priority."
Prime Minister Boris Johnson recently told his own MPs that devolution had been a disaster, although aides later claimed he was referring to the SNP's stewardship at Holyrood, while the Nationalists are now pushing hard for independence through a second referendum in response to the Brexit chaos.
"We've got our own alternative, which is not based on either status quo unionism nor independence," Mr Leonard said.
"It's about a pro-devolution position and we've seen from Boris Johnson that the Tories view devolution as a disaster, so we're an avowedly pro-devolution party that wants to make devolution work for the people.
"If you look at the 1997 referendum and if you look at the 2014 referendum, both of those were a vote of confidence in the devolved Scottish Parliament inside the UK.
"We've got a very distinctive constitutional position. The ground on devolution has been vacated by the Tories and is only of passing interest to the SNP.
"If people want to see a Scottish Parliament working inside the UK, then the best way to express that is to vote for Labour's in next May's election."
He added: "We do not support the creation of a separate Scottish state, we do not therefore support the case for a second referendum. That will be the platform we go into the election with.
"It will be Labour's pledge to the people that we stand on a platform that the next five years of the Scottish Parliament should be about the Scottish Parliament getting on with the job it was set up to do."
Sir Keir has yet to overcome the UK-wide Tory poll lead, but realises that his only realistic prospect of becoming Prime Minister will be with a revival of the party's fortunes north of the Border, according to Mr Leonard.
"Keir Starmer recognises that the job he and I have to do is rebuild trust in Labour in Scotland - he absolutely sees it as a priority," Mr Leonard said.
"He clearly sees Scotland as being critical to his route into Downing Street in 2024, but he also understands that Scotland is where the Labour party was founded and it's place where we need to reconnect with those people who have drifted off and voted for other parties.
"We need to show that we are relevant, that we are coming up with the answers to the problems that people are facing in their daily lives."
A message from the Editor:Thank you for reading this article. We're more reliant on your support than ever as the shift in consumer habits brought about by Coronavirus impacts our advertisers.
If you haven't already, please consider supporting our trusted, fact-checked journalism by taking out a digital subscription.
Comments
 0 comments
Want to join the conversation? Please or to comment on this article.