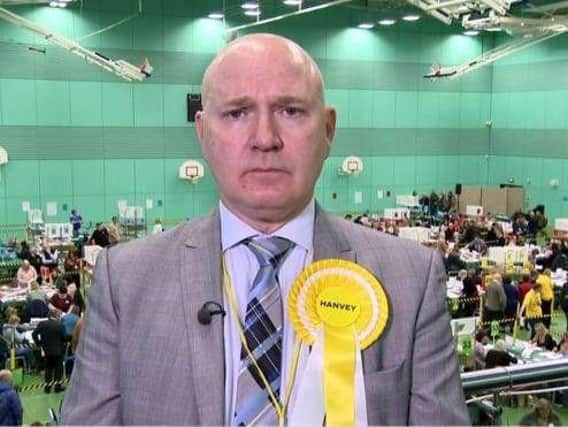 Hanvey, who was sacked from his role on the SNP front bench in February, after publicly backing a crowdfunding campaign for a defamation case against several individuals, including fellow SNP MP Kirsty Blackman, joins former justice secretary Kenny MacAskill among the high profile names to stand with Mr Salmond.
The MP for Kirkcaldy and Cowdenbeath will stand as a candidate in the mid-Scotland and Fife seat.
Mr Hanvey was suspended by the SNP in 2019 for using anti-Semitic language on social media, but was readmitted last May on the condition he completed an education course at a Holocaust centre.
Mr Hanvey said: "Like so many, I have been angered by our powerlessness in the face of Brexit and share the frustration of many who feel the aspirations of the independence movement are being ignored.
"The Alba Party provide a tonic for our movement with an unashamedly optimistic vision for Scotland's impending transition to an independent European nation."
He added: "The Alba party's growing membership will shape our policy priorities in the coming week. The people of Scotland will always be my priority so it's a very real honour to be standing for Alba and an independence supermajority."
One opposition party described the move as "the latest episode in the nationalist's bitter, twisted and divided civil war".
Scottish Labour campaign co-chair Neil Bibby said: "The defection of the controversial Neale Hanvey to the Alba Party reveals the utter disarray that the SNP is in. Scotland deserves so much better than this politics of grudge, personality and ego.
"Neale Hanvey and Kenny MacAskill must both stand down and give their constituents the chance to elect politicians more interested in guaranteeing Scotland's recovery than endlessly refighting yesterday's war."
Scottish Liberal Democrat campaign chair Alistair Carmichael MP said: "Like paint chipping off an old and decaying wall, Neale Hanvey's defection is the latest episode in the nationalist's bitter, twisted and divided civil war.
"People can reject the old arguments by backing Willie Rennie's Liberal Democrats. We will put recovery first and focus on jobs, mental health, our NHS, schools and the climate crisis."
Scottish Conservative leader Douglas Ross said: "Sturgeon and Salmond may now despise each other but they are united by their obsessive determination to rip Scotland out of the United Kingdom.
"All focus should be on the pandemic and our recovery but Sturgeon's SNP and Salmond's ultra-nationalists want this election to be another divisive fight about the constitution."
The SNP said only both votes on 6 May "can put Scotland's future in Scotland's hands - not Boris Johnson's".
A spokesman said: "The SNP is focused on tackling covid and securing a strong, fair and green recovery for Scotland as an independent country in a post-pandemic referendum."
Mr Salmond launched the Alba Party on Friday afternoon and said he would be standing on the North East regional list section. The Alba Party will only be standing candidates in the regional lists.
Other politicians to join Mr Salmond include Chris McEleny, a former group leader of the SNP on Inverclyde council. On announcement of his decision, Mr McEleny stated that he believes the former first minister "is a man of integrity".
A message from the Editor:
Thank you for reading this article. We're more reliant on your support than ever as the shift in consumer habits brought about by Coronavirus impacts our advertisers.
If you haven't already, please consider supporting our trusted, fact-checked journalism by taking out a digital subscription.