New concerns about rising inequalities in Covid-closed schools
Pupils missing a week of school because of Covid closures in the new year and the impact of more online learning could widen the attainment gap, it has been claimed.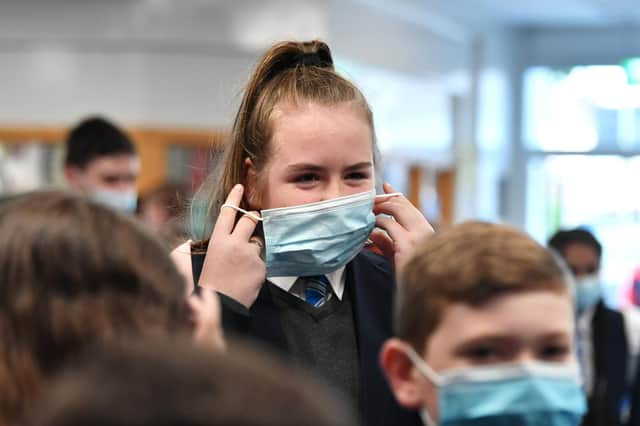 The Scottish Government has announced new coronavirus restrictions which will see only vulnerable children and pupils whose parents are key workers return to school on January 5. All other pupils will receive 'blended learning' from January 11, with school pupils expected to return to classrooms from January 18.
However the Scottish Conservatives have claimed that thousands of pupils missing out on a week of schooling will widen the attainment gap between richer and poorer pupils.
Children's Commissioner Bruce Adamson has also said he will be "raising his concerns directly with the Scottish Government" about further closures and blended learning.
He said while he supported the government's focus on public health and understood the decision to close schools for a limited time, he warned that children's education and mental health cannot be sacrificed.
"The coronavirus pandemic is a public health emergency for Scotland, but since schools first closed in March I have been clear that this is a children's human rights emergency as well… we must do everything in our power to mitigate the significant impact on children.
"Many of the concerns I have raised all year with the Government must be addressed as a matter of urgency before online learning begins on 11th January."
Mr Adamson said he was "deeply concerned" that support for online learning was inconsistent across Scotland with "not enough national guidance and support for schools from Scottish Government"
He added: "Many children and young people have had continued problems accessing online learning during periods of self-isolation, especially those with disabilities, and those from families on low incomes and families with one parent.
"We know that parents and carers are doing their very best to support children to learn at home but they need help to do so. The Scottish Government must ensure that every child that needs a device to access education, has one and can access meaningful support for education online.
"Teachers are doing an incredible job in supporting children to learn both at school and online but they must be properly supported with more digital resources, additional staffing where possible and the acknowledgement that many will be working with their own children at home at the same time."
The cancellation of exams and the lack of detail on alternative assessments, he said, will also "create more stress at an already anxious time" for young people.
He added: "We were already concerned about increasing rates of poverty and declining mental health. Our focus must be on ensuring health and wellbeing is prioritised and ensuring help is put in place while schools are closed, including through direct payments for those entitled to free school meals.
"I am raising my continued concerns directly with the Scottish Government as although local authorities and schools deliver education, Ministers continue to have the ultimate responsibility to ensure children's rights to education and mental and physical health are realised."
Mr Adamson's comments came after Scottish Conservative leader Douglas Ross also called on the government to "guarantee that every single pupil will have all the tools and opportunities they need to keep learning at home."
He added: "I urge the Scottish Government to rethink and show more ambition to keep pupils learning as much as possible. Every pupil should be returning to some form of learning from January 5. Nobody should be treated differently and miss out on school because of their background or what their parents do."
He added: "As it stands, children of parents who are out of work or not designated as key workers are likely to fall behind through no fault of their own. The attainment gap between rich and poorer pupils will grow even wider."
Mr Ross was backed by a parents campaign group UsForThem Scotland, which said shutting schools until mid-January will "harm the poorest children most", risked creating a "mental health timebomb" and said the government must provide the science upon which the decision was based.
Jo Bisset, organiser of the group, said: "This home-schooling plan will damage the education and wellbeing for tens of thousands of children for the second year running. And of course anyone watching decisions made by both governments knows fine well that, when a deadline is set for review or change, it's usually extended.
"The Scottish Government has to explain in detail why the decision has been taken, and what science it has used to come to this conclusion."
Nicola Sturgeon has said that the "situation the new strain presents means that until we are sure it is firmly under control – until we are sure we are not facing the same situation as the south of England today faces, we must slightly change our plans for the way our schools work."
She said added that instead of all pupils returning from January 5 only children of key workers, such as nurses, will go back to school then, as well as "the most vulnerable children".
She added: For the majority of pupils, however, the holidays are being extended until 11 January. Starting on that date, learning will be online until at least 18 January.
"After that, assuming we are confident we have the virus under control we will aim to reopen schools more fully but at least until then, schools will go online only other than for the children of key workers and the most vulnerable."
A message from the Editor:Thank you for reading this article. We're more reliant on your support than ever as the shift in consumer habits brought about by Coronavirus impacts our advertisers.
If you haven't already, please consider supporting our trusted, fact-checked journalism by taking out a digital subscription.
Comments
 0 comments
Want to join the conversation? Please or to comment on this article.