A new report by Mr Brown's Our Scottish Future think-tank has urged Scottish ministers to work with their Westminster counterparts to eradicate poverty-related health inequalities.
The poorest Scots are 72 per cent more likely to end up in hospital emergency beds than their affluent peers, according to the Closing The Gap survey written by researcher Andrew Mooney.
And they are 66 per cent more likely to attend accident and emergency (A&E) and, on average, spend 22 per cent longer in hospital than the wealthiest Scots.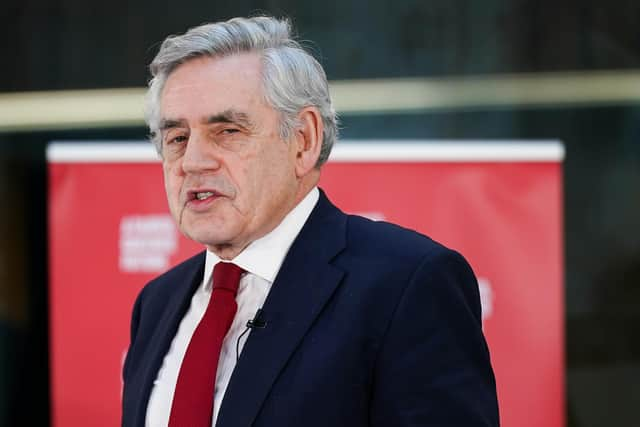 The report analyses Public Health Scotland (PHS) figures and blames the disparity on the lack of access to early healthcare intervention in areas of deprivation and the more complex health needs faced by poorer communities.
Mr Mooney's report outlines a series of recommendations to both the UK and Scottish governments, including a UK-wide health insights unit led by the four chief medical officers, passing power to councils to create a "preventative health subsidy" to boost spending in poorer areas, and country-wide consultation on the future of social security.
The former prime minister is set to hold an event with the UK's leading health inequalities researcher Sir Michael Marmot at an event in Kirkcaldy.
The experts claim a joint UK-Scotland approach to tackling health inequalities would effectively solve the NHS crisis, with the report suggesting 1,510 emergency beds would be freed up every day as a result.
In the report's foreword, Mr Brown said: "Scotland's NHS will be unable to cope – and waiting lists will continue to be at record levels – unless we dramatically reduce the inequalities in Scotland that are causing poorer health among those on low incomes and higher demand for accident and emergency services, hospital beds and prescriptions."
He added: "The NHS urgently needs more investment and fair remuneration for its hard-working nurses, ambulance workers and staff.
"This needs to be matched with a strategy to end health inequalities which disfigure our country and cut short too many lives.
"This strategy should be based on a cooperative approach, with Scotland working hand-in-hand with the rest of the UK."
Mr Mooney said: "Today in Scotland, one of the great predictors to the life chance of a new-born child is where they were born.
"Our current crises, including cost-of-living, are already showing signs of adversely affecting health.
"Through co-operation, pooling our resources, and working together across the United Kingdom, we can address these challenges and ensure everyone benefits."
Mr Brown's intervention comes after a comprehensive independent review of health and health inequalities in Scotland, led by the Health Foundation charity, found in the past decade inequalities have widened for infant immunisation uptake, low birth weight and childhood obesity.
The review showed the number of children dying before their first birthday was rising among Scotland's poorest residents as the gap between the poorest and richest Scots has grown.