The First Minister said Alister Jack was treating the Scottish Parliament "as a subordinate body and deciding which democratic decisions and laws to veto".
It came as the UK Government was urged to "immediately revoke" its order blocking royal assent for the Gender Recognition Reform (Scotland) Bill.
MSPs passed the legislation by 86 votes to 39 before Christmas, approving reforms which would allow trans people to obtain a gender recognition certificate (GRC) without the need for a medical diagnosis.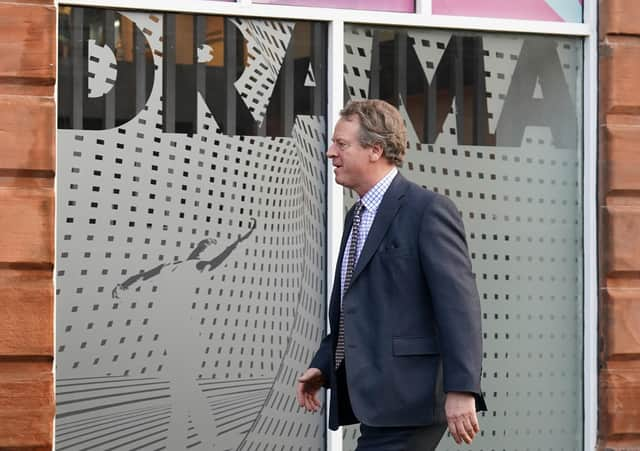 The bill will also allow 16 and 17-year-olds to apply for a GRC for the first time, and would reduce the amount of time a person has to live in their acquired gender before they can be granted the document.
However, it has sparked huge controversy, with concerns from some politicians, women's rights groups and others the changes could impact on safe spaces for females.
Earlier this week, Mr Jack confirmed he would make a section 35 order – a never-before-utilised section of the 1998 Scotland Act – to prevent the bill from gaining royal assent.
Speaking at the annual Business for Scotland dinner in Glasgow, Ms Sturgeon said: "This week we've entered a new and more dangerous phase for devolution. The Tories have broken cover. The stealth attacks have been joined by a full-frontal assault – the decision of the Tory Government to strike down a law clearly within devolved competence which was passed overwhelmingly in the Scottish Parliament, and which was supported by MSPs from all parties.
"Through his actions the UK Government Secretary of State for Scotland is demonstrating he is sadly not interested in working in partnership. He's decided to act like a governor-general: treating the Scottish Parliament as a subordinate body and deciding which democratic decisions and laws to veto."
A Scotland Office source said: "Cheap personal attacks like this are unworthy of the First Minister."
Earlier, SNP social justice secretary Shona Robison said Mr Jack "should immediately revoke the section 35 order".
The Scottish Secretary said he would not do so, telling journalists: "No. This is democracy. The democratic act is the Scotland Act 1998.
"It was brought forward by a Labour government. It created the Scottish Parliament, it was voted for by the SNP at the time and supported by the SNP.
"In there is a Section 35 order, which is available for the Secretary of State to use if there are adverse effects on a GB-wide piece of legislation.
"In this case there is and it's the Equality Act, and I've had to use Section 35 because the legal advice I have says that citizens' rights across the United Kingdom, including Scotland, are impacted by those adverse effects by this legislation, so that is why I've stopped it going for royal assent."
Mr Jack has been invited to appear before two Holyrood committees to give evidence on the decision. It has already been confirmed he will not attend one of these.
Scottish Conservative constitution spokesman Donald Cameron said: "Nicola Sturgeon's hyperbole and absurd claims prove her primary motive is not the flawed GRR Bill itself, but manufacturing a constitutional spat for her own self-interest."