The First Minister and her closest advisers had been discussing her future "off and on" for some months. But in recent weeks, the tone changed.
"Over the last couple of months, it's been a bit more of a serious conversation, and over the last few weeks increasingly so," said a source close to Ms Sturgeon. Things "crystallised" over the weekend. "She tried the idea on for size and found that it fitted," they said.
Announcing her resignation during a press conference at Bute House in Edinburgh, a visibly emotional Ms Sturgeon spoke of attending the funeral of Allan Angus, a "dear friend and long-standing independence activist", on Tuesday morning.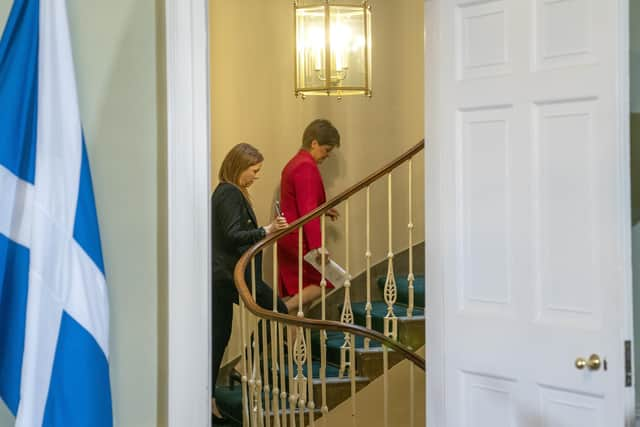 "It was actually during that funeral service that I went from being 99 per cent certain about this decision to 100 per cent certain – though I know Allan would not be at all happy to have played any part in my departure," she said. "But his funeral reminded me that the cause of independence is so much bigger than any one individual; that all of us who believe in it contribute in different ways, at different stages of our lives."
Ms Sturgeon's announcement came as a complete surprise to those in the Holyrood bubble. I was taking my car for its MOT in Dunfermline when an email dropped at 9:14am announcing the press conference. "Get on a train to Edinburgh," a figure close to Ms Sturgeon replied when I asked how big this was. "I'm not messing you about – get on a train to Edinburgh."
Ian Blackford, the SNP's former Westminster leader and a close political ally, received a phone call from the First Minister on Tuesday evening. He did not see it coming. "I'm gutted that she's done what she's done," he told The Scotsman: "But I understand, for her, why she's done it."
He described Ms Sturgeon as the "outstanding politician of her generation", adding: "I know it's a trite phrase, but they are very large shoes to fill."
Just a few weeks ago, Ms Sturgeon was insisting she still believed she would lead Scotland to independence. "There's plenty in the tank at the moment," she told the BBC on January 22. It turns out the SNP leader was running lower on fuel than anyone outside of her close circle realised.
Her decision was "not a reaction to short-term pressures", she said, but the result of a "deeper and longer-term assessment". The past few weeks have seen a bruising row over trans prisoners and the Scottish Government's gender reforms. But Ms Sturgeon has survived worse, not least during the fallout from the Alex Salmond trial.
Those close to the First Minister take pride in pointing out the first column predicting her downfall was written just months after she came to power. "Eight years later, she surprised everyone," a source said.
Ms Sturgeon is at the centre of political life in Scotland. She is Scotland's longest-serving first minister, and has led the country through a period of unprecedented turbulence. Her communication skills were widely praised during the pandemic. Only Mr Salmond can match her impact on Scottish politics.
We have been living through the Sturgeon era. That is now drawing to a close. What comes next will shape the party – and potentially the country – for decades to come.
The SNP is about to embark on an era-defining internal debate about its independence strategy, with a special conference due to be held on March 19.
The First Minister has wanted to fight the next general election as a "de-facto" referendum. Many disagree with this plan, seeing it as a potentially damaging dead end. Stewart McDonald, the SNP's former Westminster defence spokesman, recently called it a "deficient mechanism" that will not lead to independence.
Ms Sturgeon said her decision to step down frees the SNP to "choose the path it believes to be the right one, without worrying about the perceived implications for my leadership". But it also leaves the party searching for a new leader at a crucial time for the independence cause.
There is no clear successor to Ms Sturgeon. No one is waiting in the wings, eager to seize the spotlight.
Names to watch include Kate Forbes, the finance secretary who is on maternity leave; Angus Robertson, the constitution secretary; John Swinney, the deputy first minister; Humza Yousaf, the health secretary; and Stephen Flynn, the new SNP Westminster leader. Joanna Cherry, the high-profile SNP MP who has been something of a thorn in the side of the party's current leadership, is also worth keeping an eye on. But few could say with confidence how the next few weeks will pan out.
And what of Ms Sturgeon's legacy? During her speech, the First Minister said Scotland was a "changed country" since she took charge in 2014. She pointed to policies such as the doubling of early learning and childcare, as well as the devolution of the social security system, with the Scottish Child Payment at its heart.
"As the Institute for Fiscal Studies confirmed last week, the poorest families with children in Scotland are now £2,000 better off as a result of our policies," she said. "For many – in this cost-of-living crisis – that will be the difference between food on the table and a warm home, or not."
Ms Sturgeon's critics will point to those policies where rhetoric failed to match reality. The poverty-related attainment gap in schools, for example, remains stubbornly wide, despite promises it will be "substantially eliminated" in coming years. The failure to dual the A9 by the 2025 target date led to cries of "betrayal" only last week. NHS waiting times are a constant source of concern.
In the final analysis, Ms Sturgeon's party exists to drive forward the cause of Scottish independence. Despite her personal popularity, she failed to meaningfully shift the dial on that issue. Many will say she faced an impossible task in the face of a UK Government unwilling to play ball. But the fact remains: Scotland is just as divided today as it was eight years ago. The baton now passes to someone else.