Whoever becomes her successor as SNP leader will face a number of difficult challenges, which, until now, have been the domain of Ms Sturgeon. Here are some of the key tasks for whoever steps into her shoes, becoming leader of Scotland's dominant political party and the country's first minister.
Defining a route to independence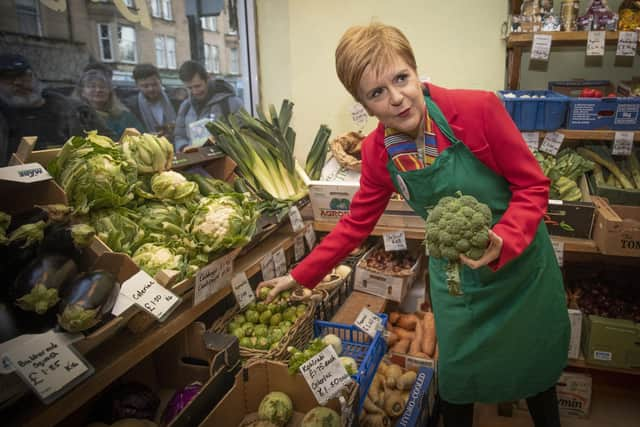 But that conference is now in doubt, with Westminster leader Stephen Flynn saying the summit should be postponed while a new leader is chosen.
In the wake of repeated refusals from Westminster for a second independence referendum, Ms Sturgeon's preference was to treat the next general election as a de-facto referendum.
The next leader will not be obliged to follow the same course. An alternative could be to treat the next Holyrood election – due in 2026 – as a de-facto referendum.
Whatever choice is made, there is also the challenge of translating any election win into a mandate for independence. It is also unclear how much of the SNP's electoral dominance can be traced to Ms Sturgeon's personal brand, with very few potential SNP leaders having household-name recognition.
What to do about gender recognition reform
The Gender Recognition Reform Bill has sharply divided opinion in the SNP, several of its politicians are vocal critics and a minister resigned from Sturgeon's Government over the issue.
It became a constitutional dispute when the UK Government took the unprecedented step of using section 35 of the Scotland Act to block the Bill from becoming law, despite a majority of MSPs voting for it.
The stage seemed set for another courtroom clash between the Scottish and UK governments, but the next SNP leader may wish to take a different approach. They could drop the Bill altogether or try to amend it in a way which would satisfy the UK Government.
Either of those options would leave many in the SNP and their allies unhappy.
Although taking place under the current set of rules regarding gender law, the transfer of transmen who are convicted sexual abusers to women's prisons has sparked a culture war over the rights of trans people to self identify their gender.
The GRR Bill, as passed, would allow Police Scotland to object to a person's application to change gender, making it all but impossible for a transgender sexual offender to be allowed to legally change their gender and enter a prison of their preferred gender.
Despite the fact the recent high-profile transgender prisoner cases occurred under the old gender recognition rules, the issue of trans prisoners has been used to criticise the GRR Bill as a whole. Ms Sturgeon's predecessor must decide whether they want to continue fighting to solidify trans rights, and reform gender recognition, or retreat from a culture-war showdown with the Conservatives, who are busy making allies of the gender critical movement.
National Care Service
Creating a new, centralised care system in Scotland is meant to be the most significant public service reform since the foundation of the NHS. As it goes through the design and consultation phase, a number of groups have raised alarm that its costs could spiral and its exact role is yet to be defined.
Ms Sturgeon's Government has insisted the reform is needed and would be a fitting legacy of the Covid pandemic. MSPs are due to vote on the Bill, which would create the National Care Service (NCS) later this year, with opposition MSPs wanting the plans to be paused or dropped altogether.
A new leader would have the prerogative to completely change tack, and scrap the NCS Bill. However, given the concerns of unions and third-sector organisations rest mainly with the speed and design of the reforms, not the notion of reform itself, a new leader may give the NCS breathing room and postpone the legislation – something Ms Sturgeon could not do without an embarrassing U-turn.
Deposit return scheme
Another Scottish Government initiative, a bid to introduce a Scotland-wide deposit return scheme (DRS) for drinks containers to encourage recycling has also attracted anger from industry figures. A cross-party group of MSPs has said it would be "reckless" to go ahead with it in August as planned.
Some businesses fear it will place extra costs and other burdens on them at a time when they are already struggling. Small producers such as craft breweries say they are not against the idea in principle, but warn the timetable and details of the scheme are problematic.
However, the Scottish Green Party, whose co-leader Lorna Slater is responsible for introducing the DRS, is determined to go ahead with it, meaning any new SNP leader will have to delicately balance the need to keep the Scottish Greens on board, and keeping businesses happy.
Strikes and budget pressures
Public services in Scotland and around the UK have been rocked by strikes, with a long-running industrial dispute with teaching unions remaining unresolved. It comes amid pressure on the Scottish Government Budget, with Deputy First Minister John Swinney saying "assiduous" efforts are being made to prevent overspend.
Taxes will be raised in the next financial year, but inflation will continue to pose difficulties for Scotland's finances. A new leader will first be tasked with finding a money tree.
Education and the NHS
The SNP has committed to reducing the poverty-related attainment gap in Scottish schools, but critics say ministers have failed to live up to their promises. Meanwhile, Scotland's NHS is only just starting to recover from an extremely difficult winter that saw accident-and-emergency department waiting times reach record levels.
Improving results in these key areas will be a crucial challenge for the next first minister.