Nicola Sturgeon will 'pay attention' to any reduction of 2 metre rule in England
Nicola Sturgeon will "pay attention" to any move to ease the two metre distancing rule south of the border as she prepares to decide on the issue in Scotland.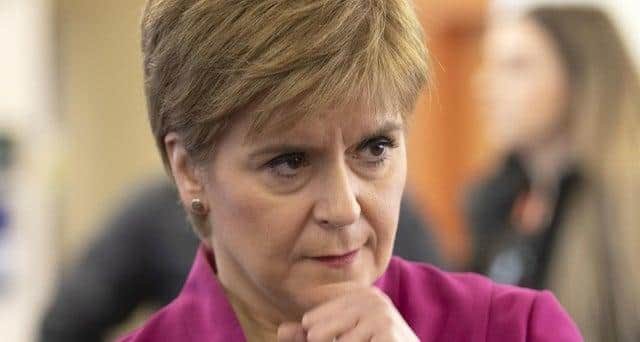 Boris Johnson will set out the findings of a review into the distancing rule tomorrow, with widespread expectations that it will be reduced for England.
The First Minister said today her own review into the issue will not be "far behind", but insisted Scotland will go its "own way" on the issue.
It comes amid growing pressure from Scotland's hospitality industry which says many bars an restaurants will not be viable without a relaxation
"We will of course, as we always do, pay attention to developments elsewhere," Ms Sturgeon said as she was quizzed about the issue at her daily Coronavirus briefing.
"Whether that's other parts of the UK, and particularly other parts of the UK given the geography, or indeed other parts of the world.
"We have to go through a process of making the assessments, listening to the evidence and applying a judgement in our own way."
The First Minister revealed last week that she has asked her scientific advisory group to review the social distancing rule. They are expected to report back soon, with Ms Sturgeon having pledged to update Parliament by July 2.
And the First Minister added: "Of course we will pay attention to any evidence and advice that is published to support a UK Government decision and I assume they will do that."
But she added: "This isn't a straightforward black and white binary issue. It's not the case that there is a safe distance. Risk increases the shorter the distance you have. So you have to consider the environment that is in, you have to consider other mitigations and you have to consider the risk overall.
"I think it's important these things are done carefully. There are some scientists and experts in this field who will say `Yes, you can safely reduce the distance, perhaps with some mitigations.' There are others who say the level of transmission of the virus right now in the UK is still to high to do that.
"In terms of the advice that's coming and the reporting of that, we're not going to be very far behind what happens, whatever the decision might be, in the UK."
Comments
 0 comments
Want to join the conversation? Please or to comment on this article.