Liz Lloyd, who was Ms Sturgeon's chief of staff between 2015 and 2021 and later became her "strategic adviser", said she plans to pursue new opportunities outside of politics.
It was previously reported that Ms Lloyd has been advising the campaign team of Humza Yousaf, one of three candidates vying to replace Ms Sturgeon, in her own time. Mr Yousaf is seen as the establishment-backed candidate in the SNP leadership race.
Ms Sturgeon paid tribute to Ms Lloyd on Twitter, writing: "Liz has been by my side throughout my time as FM. Her advice, support, perspective, humour and sheer hard work has been indispensable to me. She is brilliant and I know she'll go on to do great things. Thank you, Liz."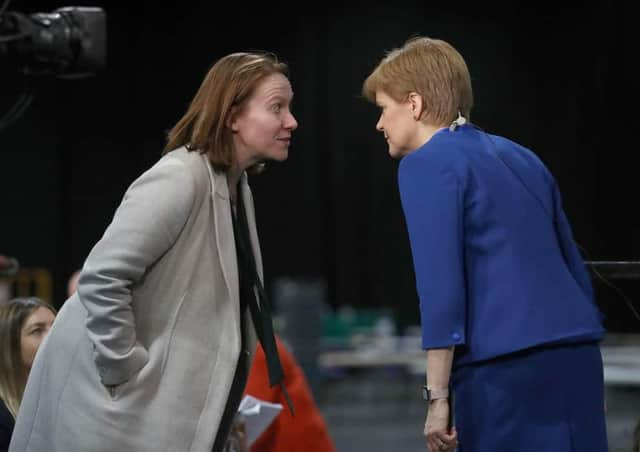 In a statement posted in social media, Ms Lloyd said: "For nearly 20 years I've been lucky to have a job I love, working with a team of people dedicated to improving people's lives across Scotland. It is now time to pursue new opportunities – as yet unidentified – outside of politics.
"As Nicola Sturgeon's chief of staff and strategic adviser over the last eight years it has always been my intention to leave government when she does.
"Since 2004 it has been my privilege to work for the SNP, Scottish Government, [Deputy First Minister] John Swinney and ultimately Nicola Sturgeon. It has been a privilege – challenging, exhausting, at times frustrating, but also inspiring and enjoyable.
"As a team we've delivered record breaking election wins, guided numerous budgets and government programmes through minority, majority and partnership government, secured new powers for the parliament as part of the Smith commission, built tax and social security systems, a National Investment Bank, taken Scotland to new levels of international recognition and built credibility on global issues, such as climate change.
"And while there have been some very difficult times along the way - particularly the challenges presented by the global Covid pandemic - it has been the best journey I could have wished for."
A new SNP leader and First Minister will be announced on March 27.