At a fringe event at the SNP's conference in Aberdeen, representatives from the Faculty of Advocates and the Scottish Solicitors Bar Association warned of the impact of underfunding the justice system.
This included demands to end the ringfencing of health funding to ensure all areas of the Scottish budget suffer from cuts equally and warnings failing to do so would see parts of the system collapse without sufficient funding.
Calum Steele, the general secretary of the Scottish Police Federation, warned budget cuts for the police service would lead to less spent on missing persons cases.
He said: "We are in a dire financial situation just now.
"The consequences of that will be a smaller police service, fewer police officers, fewer police stations, more crime and more victims of crime being disgruntled with the police service.
"There is no point pretending that is not going to happen because that is the only thing that can happen."
He also described the state of the police estate as "falling down" with the state and condition of buildings "absolutely diabolical".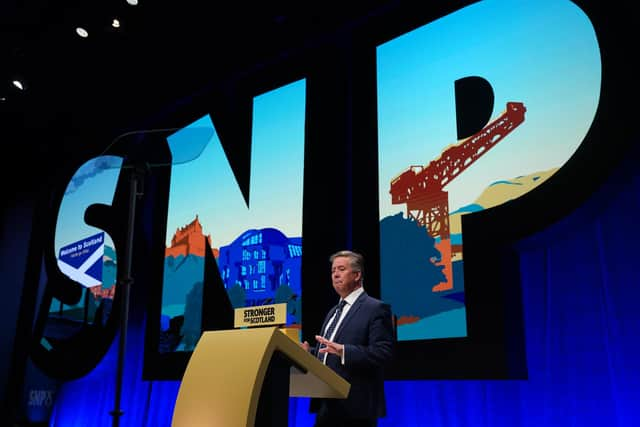 Ronnie Renucci KC, vice dean of the Faculty of Advocates, said the justice system was at a "crisis stage" following "years" of underfunding.
Julia McParlin, president of the SSBA, also warned of an inability to hold on to staff due to the pressures on defence solicitors.
Justice secretary Keith Brown claimed the underfunding was due to the constitutional settlement for Scotland.
He said the government was facing "negative consequentials" and forced to find in-year budget cuts due to potential spending cuts from the UK Government.
The SNP deputy leader said: "There has not been a situation like this, that's no exaggeration. It is an extremely grim situation."
"There is an awful lot being done, there are big big challenges, but there is no vendetta against any part of the justice system.
"Why would we want to do that? The way to overcome these structural limitations, mostly based on finance, are by achieving independence for Scotland."
Scottish Tory justice spokesperson, Jamie Greene, said justice funding was "unacceptable and unsustainable"
He added: "This is a chilling warning straight to the heart of the SNP government about the impact their real-terms cut to the resource budget will have on policing in Scotland."
All episodes of the brand new limited series podcast, How to be an independent country: Scotland's Choices, are out now.