Members of the SNP's National Executive Committee (NEC) had spoken to Murrell and called for him to step down amid threats of a vote of no confidence.
In a statement, Mr Murrell said: "Responsibility for the SNP's responses to media queries about our membership number lies with me as chief executive. While there was no intent to mislead, I accept that this has been the outcome. I have therefore decided to confirm my intention to step down as chief executive with immediate effect.
"I had not planned to confirm this decision until after the leadership election.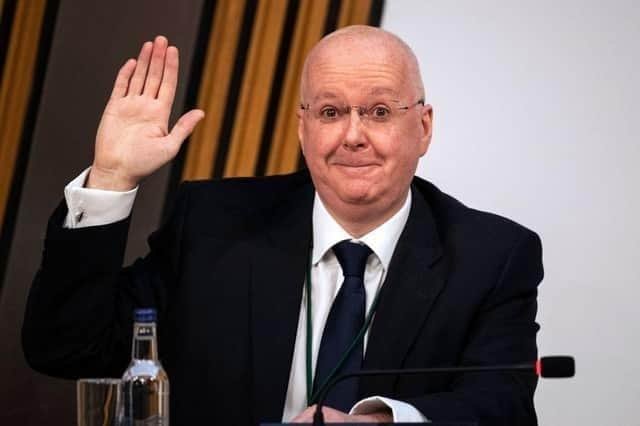 "However as my future has become a distraction from the campaign I have concluded that I should stand down now, so the party can focus fully on issues about Scotland's future.
"The election contest is being run by the National Secretary and I have had no role in it at any point."
The statement added: "I am very proud of what has been achieved in my time as chief executive and of the part I have played in securing the electoral success the party has enjoyed over almost two decades.
"14 national election wins is testament to the skills of the dedicated and talented HQ team that I have been privileged to lead.
"They give their all to the party and the independence cause and I thank them for it.
"I have worked for independence all my life and will continue to do so, albeit in a different capacity, until it is achieved – and I do firmly believe that independence is now closer than ever."
Following concerns expressed by SNP candidates over voting in the leadership contest, the party released membership figures, confirming that there are 72,186 paid-up members voting in the leadership contest, confirming that it had indeed lost 30,000 members, weeks after the denial.
Mr Foote resigned from his position saying that after speaking to the party's HQ, he had issued responses to the media which had "serious issues" and he later decided there was a "serious impediment" to his role.
Prior to the resignation of Murrell, Kate Forbes acknowledged "extraordinary turmoil" in the party.
On Saturday, Ms Forbes issued an open letter to SNP members who had yet to cast their vote.
She said: "Many of you, like me, will be hurt and bemused by the extraordinary turmoil in our party over the last days.
"If anyone was in any doubt that this needs to be a change election for the SNP, recent events and resignations confirm the core message of my campaign: continuity won't cut it."
She continued: "I love the SNP, and I am passionate about Scotland's future as an independent, fair and wealthy nation."
Scottish Conservative chairman Craig Hoy MSP said: "A fish rots from the head down – and the same applies to the SNP.
"Peter Murrell's resignation is long overdue – but there remain serious questions for him to answer, not least over the 'missing' £600k from party accounts.
"The brutal, shambolic SNP leadership election appears to have been the tipping point that's forced the First Minister's husband to quit before he was pushed."
Scottish Labour deputy leader Jackie Baillie said: "This latest resignation of a top SNP figure goes to show that the wheels have fallen off the SNP wagon.
"When Scotland most needs responsible governance, the SNP has turned inward and begun to tear itself apart."
Critics of the SNP under Nicola Sturgeon's leadership – both inside and outside the party – have long questioned whether it is appropriate to have the same household holding both the roles of chief executive and leader.
During parliamentary hearings into the harassment inquiry around Alex Salmond, Mr Murrell's role came under further scrutiny.
At one point he was accused of giving contradictory evidence to a Holyrood committee investigating the Scottish Government's botched handling of harassment allegations against Mr Salmond.