SNP Energy Secretary Michael Matheson said domestic production of oil and gas will effectively end within the next 20 years even if no action is taken.
But critics called the approach "a breathtaking betrayal of one of Scotland's biggest industries" and warned it risked shutting down production prematurely.
It came as the Scottish Government published its long-awaited draft energy strategy and "Just Transition" plan.
Speaking in the Scottish Parliament, Mr Matheson said: "While we do not have the powers to influence offshore oil and gas exploration and extraction, we are seeking views on a more robust climate compatibility checkpoint, including for oil and gas fields that are already licensed but not developed, and on a presumption of no new exploration in the North Sea."
Russell Borthwick, chief executive of Aberdeen and Grampian Chamber of Commerce, criticised the "damaging, job-destroying position". He said: "This move towards a presumption against exploration for North Sea oil and gas has been met with complete disbelief in the North East of Scotland.
"While the Scottish Government's position is largely symbolic, as these matters are reserved to the Westminster parliament, this is still a breathtaking betrayal of one of Scotland's biggest industries."
Mr Borthwick said the energy transition will take 25 years or more and there is "quite clearly a sustained period of time where oil and gas will remain a crucial part of our energy mix".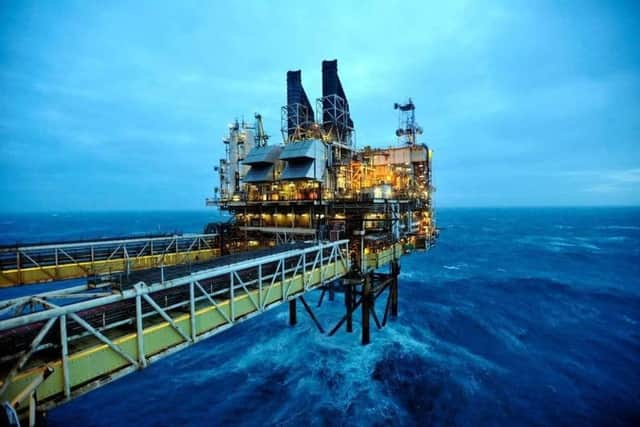 The new strategy includes plans to substantially increase renewable electricity generation capacity, with an additional 20 gigawatts (GW) by 2030, which could produce the equivalent of nearly 50 per cent of current demand. Elsewhere, there is an ambition for 5GW of renewable and low-carbon hydrogen power by 2030 and 25GW by 2045, as well as more solar, hydro power and marine energy.
The strategy was initially due to be published in spring last year but has suffered repeated delays.
Mr Matheson told MSPs: "Scotland's rich renewables resources means we can not only generate enough cheap, green electricity to power Scotland's economy, but we can also generate a surplus, and open up new economic opportunities for export."
He said failure to act now to deliver a just transition would risk "the kind of damage to industrial communities we saw in the 1980s", adding: "However, if we seize the opportunity presented by the transition, the number of low carbon jobs in the energy production sector is estimated to rise from 19,000 in 2019 to 77,000 by 2050, delivering a net gain in jobs across the energy production sector overall."
Mr Matheson said independent research showed production in the North Sea is expected to be around a third of 1999 levels by 2035. He continued: "This means that domestic production will effectively end within the next 20 years if we do nothing. The draft strategy is consulting on whether we should act faster than this."
Mark Ruskell, the Scottish Greens' energy and environment spokesman, said the new strategy marked a "historic step forward".
He said: "It is a generational tipping point for our country. Our country helped to fuel the industrial revolution through the use of its coal reserves, and then was at the leading edge of the global oil and gas industry for decades as a result of the North Sea reserves.
"For the first time, this energy strategy abandons the dogma of maximum economic recovery of oil and gas and sets a clear path to a renewable future.
"Now Scotland has become one of the first countries with significant fossil fuel reserves to draw a line under this, accept that some fossil fuels need to be left in the ground if our planet is to be kept safe, and to commit unreservedly to renewables, and a fair and just transition that ensures that no worker and no community is left behind."
But Mary Church, head of campaigns for Friends of the Earth Scotland, said the strategy was "chock-full of existing commitments that we already know are insufficient to meet our climate targets". She added: "The Scottish Government has shied away from taking the big decisions we know are needed, like setting an end date for fossil fuels in our energy system within the decade, and committing to phasing out oil and gas in line with science and justice."
Liam Kerr, the Scottish Conservatives' energy spokesman, said the document "will represent a far from happy new year for the tens of thousands of workers engaged in oil and gas", adding: "These workers often feel like an afterthought for this government and that impression won't improve after today."
He said: "The minister talked of ending domestic production and a presumption against new exploration and production. Such an approach risks shutting down the industry prematurely, leaving us dependent on imports and undermining the very supply chain we need to deliver the transition."
Scottish Labour's energy spokesman Colin Smyth said the strategy was "mostly a rehash of existing policies".
He said: "There is still not nearly enough to change this Government's woeful record and deliver the jobs-first transition we need. In 2010, the SNP promised there would be 130,000 green jobs per year by 2020, claiming we would be the Saudi Arabia of renewables – but instead just a fifth of those jobs have been delivered and supply chain contract after contract continues to go overseas."
Offshore Energies UK, which represents the oil and gas industry, said it welcomed Mr Matheson's promises around developing a hydrogen economy.
External relations director Jenny Stanning added: "However, we are concerned at the statement's suggestion of accelerating the decline in oil and gas production. Scotland gets 79 per cent of its total energy from oil and gas according to its latest official figures."