The Prime Minister has so far resisted calls to sack Mr Zahawi after it was revealed the leading Tory figure and Cabinet member had paid a tax penalty while serving as chancellor.
Mr Sunak has now ordered an independent investigation into the matter, and stressed he believed in "proper due process".
His assertion came as Downing Street on Wednesday night bowed to renewed pressure to say Mr Sunak has never paid a tax penalty, unlike the Tory chairman.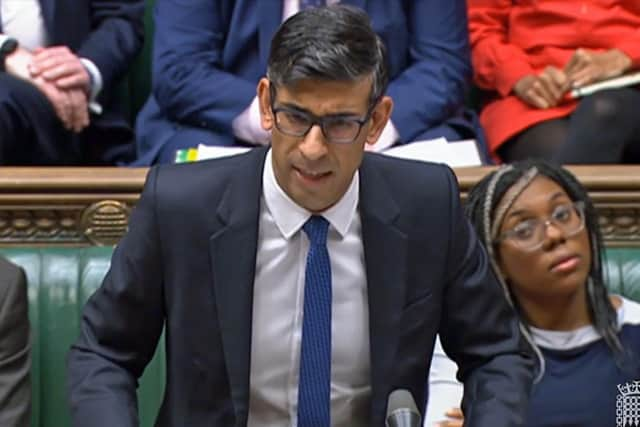 The row centres on a tax bill over the sale of shares in YouGov, the polling firm Mr Zahawi founded. The shares, worth an estimated £27 million, were held by Balshore Investments, a company registered offshore in Gibraltar and linked to Mr Zahawi's family.
At a heated Prime Minister's Questions, Labour leader Sir Keir Starmer accused Mr Sunak of being too "weak" to do the right thing.
Sir Keir asked: "Does the Prime Minister agree that any politician who seeks to avoid the taxes they owe in this country is not fit to be in charge of taxpayer money?"
Mr Sunak replied: "I am pleased to make my position on this matter completely clear to the House. The issues in question occurred before I was Prime Minister.
"With regard to the appointment of the minister without portfolio, the usual appointments process was followed. No issues were raised with me when he was appointed to his current role, and since I commented on this matter last week, more information has come forward.
"That is why I have asked the independent adviser to look into the matter. I obviously can't prejudge the outcome of that, but it is right that we fully investigate this matter and establish all the facts."
Mr Sunak, in defending his own "integrity", added: "What I'm standing up for is proper due process."
SNP Westminster leader Stephen Flynn also questioned the lack of action over Mr Zahawi, accusing the Prime Minister of leading a "parcel of rogues".
He said: "May I ask the Prime Minister what advice would he have for individuals seeking to protect their personal finances? Should they seek out a future chair of the BBC to help secure an £800,000 loan?
"Should they set up a trust in Gibraltar and hope that HMRC simply don't notice? Or should they do as others have done and simply apply for non-dom status?"
Mr Sunak replied: "I'm proud of the record of this Government in supporting the most vulnerable in our society.
"Just this winter helping all families – £900 with their energy bills, raising the National Living Wage to record levels and ensuring that our pensioners get the support they need. That's what this Government is doing to ensure financial security in this country."
Mr Flynn added: "Let's be clear about this, this is now a matter of the Prime Minister's own integrity and accountability. Is it little wonder that people in Scotland may well just consider the Tory party to be a parcel of rogues?"
Later, trade minister Andrew Bowie insisted Mr Sunak would sack his party chairman if Mr Zahawi was found to have broken the ministerial code, telling the BBC: "If he is found to have fallen foul in this report, the Prime Minister will of course sack him."
But the Prime Minister's official spokesman did not give the same assurance, pointing to the ministerial code recently being updated to indicate "it's no longer a binary decision".
The Prime Minister's press secretary had initially separately insisted Mr Sunak's tax affairs were "confidential", even as he prepared to publish his tax return in an attempt at transparency.
But after Labour said Sir Keir had never paid a penalty, No 10 issued a statement saying: "The Prime Minister has never paid a penalty to HMRC."
Earlier in the day, Mr Sunak's press secretary had said the Prime Minister would publish his tax return "in due course", but would not say whether he had ever paid a penalty to HMRC.
"You wouldn't expect me to get into the Prime Minister's tax affairs, they are confidential," she said.
"The tax affairs of an individual, irrespective of who they are, are confidential."
She would not commit to publishing six years of his tax returns, as David Cameron did while prime minister.
In the past, the press secretary repeatedly declined to say whether Mr Sunak had private healthcare as the NHS strains under a series of pressures.
She argued it was not "in the public interest" to divulge the Prime Minister's healthcare arrangements.
But earlier this month, Mr Sunak, under pressure, said he was registered with an NHS GP but that he had used "independent" healthcare in the past.
A Labour spokesman told reporters Mr Sunak should reveal whether he had ever paid a tax penalty. He added that Sir Keir had never paid one himself.
Nicola Sturgeon had on Monday promised to publish her tax returns for the past seven years after failing to deliver on a pledge made in 2016.
The First Minister said she had had "other things to deal with" in recent years, but told journalists there was nothing worth getting "excited" about.
"My salary as First Minister is my only income, so if any of you are getting excited about what you might see in my tax returns, I'd caution you against it, because there isn't anything in my tax returns other than my publicly known salary," she said.
Ms Sturgeon added: "We're coming up to the end of this tax year, and when we pass the end of this tax year into February, I will publish my tax returns, so that what I've just said there you can see is absolutely the case."