Sir Keir Starmer outlined "five utter failures" in the Conservatives' migration policies while in government stating that the problem just gets worse with every new gimmick.
Starmer said that if the Conservative party was serious about immigration he would be stealing Labour's own plan for small boats, saying the government's plan is "all talk", accusing the Government's asylum plan of driving a "coach and horses" through the country's modern slavery framework.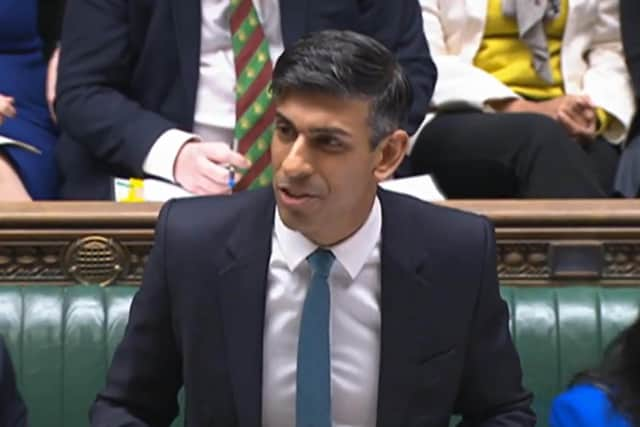 "Does he agree with her assessment of this Government's record?"
Prime Minister Rishi Sunak said: "What (Sir Keir) fails to recognise is there is a global migration problem. We are not alone in facing these challenges.
"It is precisely because across Europe the numbers escalating to the extent they are we have brought forward new plans, because we are determined to ensure that this remains a compassionate and generous country, that that is done fairly and legally."
He outlined Government measures and said: "What we haven't heard is (Sir Keir's) plan. We know what it is, it's open door immigration and unlimited asylum. Whilst he may be on the side of the people smugglers, we are on the side of the British people."
Sunak responded saying that Sir Keir Starmer and his party failed to recognise there is a global migration problem adding that there are now 6,000 fewer people in the asylum case backlog and that the UK is hiring more case workers stating "Our position is clear, if you arrive here illegally you will not be able to claim asylum."
He added that stopping small boats was "priority" for the British people and accused Labour of having no plan to stop people coming to the UK because it does not want to tackle the problem, says the government has a clear plan to stop people coming in the first place.
Rishi Sunak also faced calls to publish his tax returns, after promising to do so more than 100 days ago.
Labour MP Richard Burgon said: "Over 100 days ago the Prime Minister promised to publish his tax returns. He still hasn't.
"People want transparency in our politics, especially because the Prime Minister is the richest prime minister in history and because of the concerns there have been.
"So, why on earth hasn't the Prime Minister published his tax returns yet? When will he do so? And when he does so, will he include his US tax returns?"
Rishi Sunak responded: "As I have previously confirmed, I will publish my tax returns and that will be done very shortly."
Suella Braverman said small boat crossings will "fall dramatically" under her asylum plans as she insisted they are legal, but could not say when removals will begin.