In that respect, he did not disappoint. But crucially, he did not particularly impress either.
From the outset, the 42 year-old sought to project ease and confidence, wearing a broad smile, and turning time and again to address the Tory ranks, who responded in kind with rallying cheers. Such exuberant call and response routines betrayed the determination by Mr Sunak and his party to present a united front, but their frequency and fervour felt forced.
Where it mattered, Mr Sunak fell short. Even though the hardball questions he faced were predictable, he either avoided them altogether, or tried without success to move the goalposts. Unsurprisingly, the majority of those questions focused on the reappointment of Suella Braverman as home secretary, just days after she was forced to resign from the same post in Ms Truss's government after breaching the ministerial code.
Mr Sunak is a staid orator, but could have expounded on Ms Braverman's experience as a barrister and attorney general, or pointed out that just seven years into her parliamentary career, she has served in the Cabinets of four prime ministers. Then again, that may have said more about the Conservatives' instability than Ms Braverman's talents.
Instead, the new prime minister attempted to shut down or divert scrutiny of his most controversial Cabinet appointment. Neither strategy bore fruit. It did not help Mr Sunak that Sir Keir Starmer was having a good week. The Labour leader's first question was concise and laid the foundations for what followed. "Was his home secretary right to resign last week for breach of security?" he asked.
Mr Sunak said Ms Braverman had recognised her error, and "accepted her mistake", and insisted her focus should be on crime and defending the country's borders – a jab that set up a limp attack on Labour.
Sir Keir, happy to step up the sparring, got to the point. Ms Braverman's appointment, he said, undermined Mr Sunak's promise to run a government of integrity, professionalism and accountability. He did not let the attack on Labour's crime record go unanswered either, reminding the Commons that he ran the Crown Prosecution Service for five years.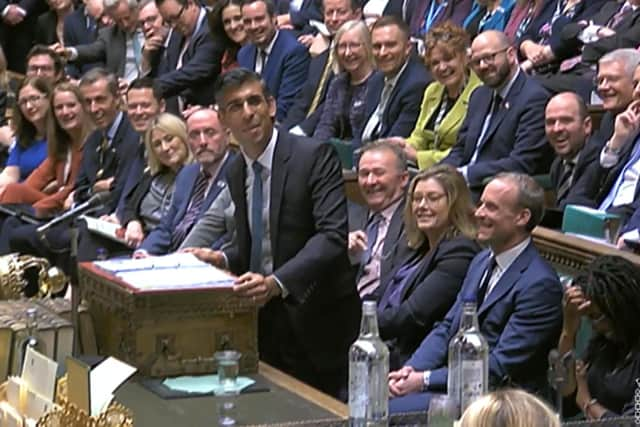 "I worked with home secretaries to take on terrorists and serious organised crime, and I know first hand how important it is that we have a home secretary whose integrity and professionalism is beyond question," he observed.
It was a clever retort that emphasised his own experience while casting doubt on Ms Braverman's suitability for one of the most senior roles in government. And it was followed by Sir Keir's best question of the afternoon, when he asked if officials had raised concerns about her reappointment.
A rattled Mr Sunak avoided a direct answer, but neither did he deny the suggestion. What he offered up by way of substitution was weak; a line about extra police officers and an attack on Labour for backing the "lunatic protesting fringe", both of which could have come from Boris Johnson. "That was clearly not a no," Sir Keir noted, when Mr Sunak eventually took his seat.
Perhaps sensing Mr Sunak's unease, Sir Keir doubled down. He accused the new PM of trying to protect his party at the expense of the country at large, describing Ms Braverman's appointment as a "grubby deal".
When the time came for the SNP's Ian Blackford to address the chamber, he went further, describing the home secretary's sudden return to Cabinet as a "sleazy backroom deal to shore up his own position".
By then, however, Mr Sunak had decided on the rope-a-dope strategy, taking the blows and avoiding any substantive discussion. Apropos of nothing, he told Mr Blackford he had spoken to First Minister Nicola Sturgeon.
But if Mr Sunak thought the questions about his new Cabinet were over, he was mistaken. Stephen Kinnock seized on the return to government of Sir Gavin Williamson as minister without portfolio in the Cabinet Office.
Having reminded the Commons that Sir Gavin was unceremoniously sacked as defence secretary by Theresa May in 2019 following an inquiry into a leak from a top level National Security Council meeting, the Labour MP asked Mr Sunak if he had sought or received any security concerns.
This time around, the Prime Minister's response was even less convincing. "He's talking about events that happened four years ago," Mr Sunak announced, before somehow twisting his answer into an attack on Jeremy Corbyn.
Elsewhere, the weak points that have been seized upon by Mr Sunak's critics in recent months were laid front and centre. With a nod and a wink in the direction of the financial arrangements of Mr Sunak's wife Akshata Murty, Sir Keir asked what Downing Street would do about scrapping non-dom status. A general answer followed, talking of "difficult decisions" ahead to restore economic stability.
Sir Keir also referenced the recording of Mr Sunak's comments to Tory members earlier this summer, when he admitted taking money from deprived urban areas to give it to other parts of the country. "He pretends he's on the side of working people, but in private he says something very different," the Labour leader concluded.
Mr Sunak tried to give as good as he got, laughing at his own joke when he replied that Sir Keir "rarely leaves north London". But in truth, it was another swing and a miss.
The Prime Minister's supporters may argue otherwise, but their man left his debut with mounting questions about his judgement, and that of those he has appointed. If Labour's goal at the outset of PMQs was to portray Mr Sunak as wealthy, out of touch, and paying only lip service to the idea of integrity, it succeeded on all fronts.