Soapbox
@martin_compston: "I see Scottish tory twitter and their bots enraged an actor would express an opinion. Apparently it isn't valid either as they claim I don't live here. In that case could you do me, the postman and the environment a favour and stop sending me literature asking for my vote."
Line of Duty star Martin Compston revealed in a video aired just hours ahead of the season finale of the hit BBC crime series that he was supporting the SNP in this Thursday's Scottish election. Not everyone was happy though with the Scottish actor expressing his political views, particularly with him living in the US with his American wife while also having a Scottish residence. Compston, who was brought up in Greenock, didn't hold back in his response on Twitter.
Caption This
Do you have a good caption for this photo of Willie Rennie feeding the penguins at Edinburgh Zoo.
Let us know in the comments.
#FakeNews?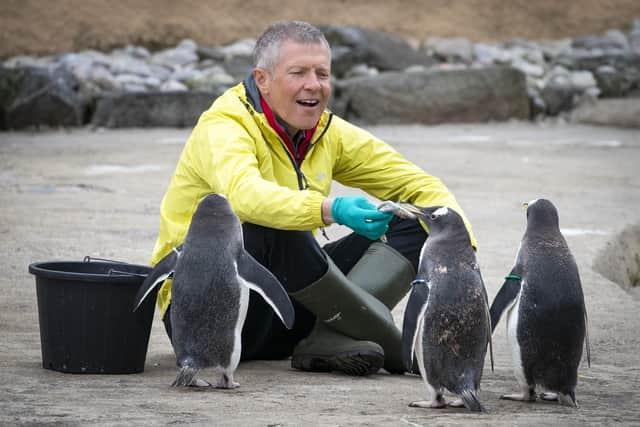 The Scottish Greens are doing their best to dispel any 'fake news' surrounding election candidates and their connection to the 'Green' umbrella.
Alistair McConnachie – a former Ukip member and Holocaust denier – is contesting for a seat in the Glasgow list region and standing under the 'Independent Green Voice' banner.
The move prompted the Greens to release a statement on Monday, three days before voters head to the polls, warning Scots not to support "conspiracy theorists" who they claim are "masquerading as greens".
Greens culture spokesperson Ross Greer said: "Only a vote for the real Scottish Green Party will tackle the climate emergency, stand up to bigotry in all its forms and build a fairer, greener Scotland after this pandemic. It is important that voters read their ballot papers carefully."
Campaign Trail
•Those candidates hoping to hit the campaign trail on foot at the start of election week were met with a typical Scottish welcome on the weather front. Scotland recorded its joint-coldest ever May bank holiday temperature in the Highlands on Monday morning, with the gauge registering a chilly -5.9°C in Kinbrace. The record coincided with heavy showers across the country, making campaigning on the ground difficult. The forecast for polling day on Thursday is looking slightly more promising, with the Met Office reporting a mixture of sunny and cloudy conditions and a top of 9C and 10C in Edinburgh and Glasgow respectively.
•There has been plenty of talk about building bridges from Boris Johnson and Nicola Sturgeon – but Willie Rennie wasn't one to be left out. With just three days left on the campaign trail, the Scottish Liberal Democrats leader issued a direct appeal to supporters of other parties to back him in with their vote to "build bridges to rebuild Scotland". Throughout the election campaign, Mr Rennie has argued politicians should be focused on the country's coronavirus recovery – not the constitution. Mr Rennie's bridge-building may have been different in nature to the Prime Minister's proposal for a crossing from Scotland to Northern Irelands, or the SNP's plans for a new bridge from Gourock to Dunoon to reduce reliance on ferries, but he will be hoping the appeal sways voters nonetheless.
Battleground
•Winning Party (2016): SNP
•Second place (2016): Scottish Conservatives
The constituency, which includes the northern part of Aberdeen and some of its rural hinterland, has been dominated by the SNP at the past four elections.
Brian Adam won the constituency at the 2003, 2007 and 2011 Holyrood elections before dying in April 2013.
SNP candidate Mark McDonald won the subsequent by-election before retaining the seat comfortably in 2016 ahead of the Tories' Liam Kerr.
But it has been a bumpy ride since for the former childcare minister, who quit the SNP in 2018 and was briefly suspended by Parliament after being accused of inappropriate behaviour by three women.
Mr McDonald is standing down at this election, with Aberdeen councillor Jackie Dunbar standing and looking to win the seat back for the SNP. She will be up against Tory candidate Harriet Cross and Labour's Heather Herbert.
A message from the Editor:
Thank you for reading this article. We're more reliant on your support than ever as the shift in consumer habits brought about by coronavirus impacts our advertisers.
If you haven't already, please consider supporting our trusted, fact-checked journalism by taking out a digital subscription.