The Prime Minister ousted the Tory party chairman over the weekend following numerous breaches of the ministerial code, despite Mr Zahawi's protestations of innocence.
It follows an investigation that revealed Mr Zahawi breached the ministerial code by failing to be transparent about the multi-million-pound settlement with HM Revenue & Customs (HMRC) reached while he was chancellor, which included paying a penalty.
That came despite his numerous threats of legal action to journalists investigating his tax affairs, as well as numerous interviews where he insisted there were no issues.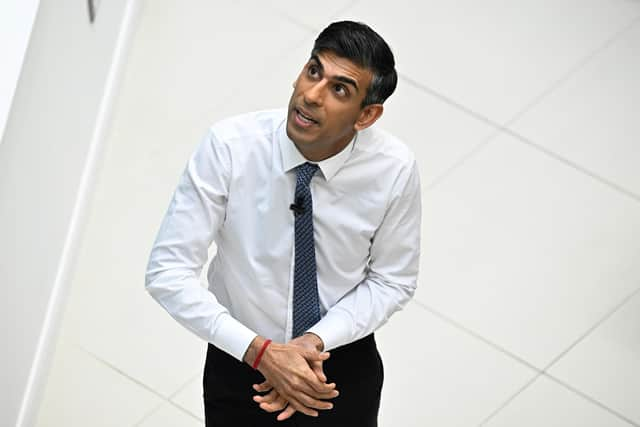 Now the Prime Minister is facing questions as to why he took so long over the sacking, with critics saying he should have acted sooner.
Speaking in County Durham on Monday, Mr Sunak said: "What I have done is follow a process, which is the right process. Integrity is really important to me – all of you guys want to see that Government is run properly, that it is run with integrity and there's accountability when people don't behave in the way that they should or if something doesn't go right, and that's what we've done."
After Sir Laurie Magnus, the independent adviser on ministers' interests, submitted his critical findings, the Prime Minister then made his decision on Sunday.
Mr Sunak said on the basis of those facts "I was able to make a very quick decision that it was no longer appropriate for Nadhim Zahawi to continue in Government".
The Prime Minister now faces yet more scrutiny over his Cabinet appointments. Deputy Prime Minister Dominic Raab is under investigation over bullying allegations, while home secretary Suella Braverman was reinstated in her post after being found to have breached the ministerial code by sending a draft ministerial statement to a backbench MP through a private email address.
Despite this, Mr Sunak insisted he would take "whatever steps are necessary to restore the integrity back into politics, and you can have confidence that the process works".
After being sacked, Mr Zahawi, the Stratford-on-Avon MP, failed to apologise. He instead took aim at the media as he complained "about the conduct from some of the fourth estate in recent weeks".
The Liberal Democrats wrote to Mr Sunak saying he should now strip Mr Zahawi of the Tory whip if he refuses to quit as an MP.
Deputy leader Daisy Cooper said: "Sunak dragged his feet for weeks over this scandal. He must now act swiftly if he's serious about restoring integrity to this sleaze-ridden Conservative Government."
Labour chairwoman Anneliese Dodds told the BBC Radio 4 Today programme her party has also written to the PM to ask when he found out about the HMRC investigation into the former Conservative Party chairman.
She said: "There are serious questions for Rishi Sunak to answer. What did he know about the investigation into Nadhim Zahawi, the amount of money he had paid in unpaid tax and the penalty he had to pay?
"Why did Rishi Sunak say in Parliament that there weren't questions to be answered about Mr Zahawi's tax affairs, and why do we see our Prime Minister continuing to prop up such a rogues' gallery of ministers?"