On the agenda for the Prime Minister is dealing with the small boats crisis, Russia's war in Ukraine and improving relations after a series of incidents that damaged co-operation.
Whether it was the rhetoric around Brexit, the failure of Mr Sunak's predecessor, Liz Truss, to answer if Emmanuel Macron was "friend or foe", or UK snubbing France to join a new strategic partnership with the US and Australia, the cross-Channel relationship has been damaged deeply by successful prime ministers.
But things seem to be changed, with the two leaders now seemingly thick as thieves, seen smiling and laughing together in photos, as well as having regular conversations.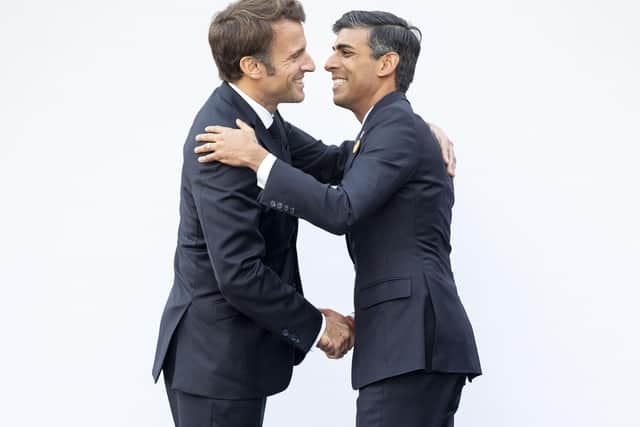 For Mr Sunak's sake, he will need this trip to go well, after a difficult week where he unveiled controversial new laws to deport seemingly all adult migrants who reach the UK illegally, regardless of their asylum status.
The United Nations has condemned the Bill, the Government is unable to explain how it will align with international law, and home secretary Suella Braverman has claimed 100 million refugees want to come to Britain. What she has not said is how it will work, with the Conservatives distracted by spats with BBC presenter Gary Lineker.
With this in mind, Mr Sunak needs this summit to go well, in which he expected to agree to pay France a multi-year settlement worth millions that would put "boots on the ground" on French beaches. The measures will not be sweeping, but are instead understood to be small-scale changes, with a commitment to do more.
However, there are already boots on the ground, the French already deploy police on the beaches, so much like Tuesday's announcement without detail, this may prove another promise without policy. Instead, Mr Sunak hopes to return to Britain claiming a win and that by working together on this, France will be open to more long-term solution in the future.
It is a sell to the public. Downing Street hopes to be seen to be dealing with the numbers coming to Britain, even if privately they do not expect this to resolve the issue.
Mr Sunak hopes his backbench MPs, many of whom have repeatedly attacked the Government over the small boats, will buy this as a clearer plan to reduce the numbers.
Unfortunately for the Prime Minister, however, it is with the EU where the real negotiations need to take place, which has more say over where refugees passing through end up if they are detained. Given the EU Home Affairs Commissioner Ylva Johansson has already claimed Mr Sunak's "stop the boats" plan breaks international law, there appears to be little sign of progress on that front.
So instead the Prime Minister must go through the French, working with Mr Macron to eventually dialogue with Brussels, fixing the mistakes of prime ministers' past.
There will also be talks on Russia and Ukraine, with the pair expected to discuss the importance of getting Vladimir Putin to resume Russia's participation in the START nuclear treaty, which places limitations on warheads.
But for Mr Sunak, it is being seen to act on domestic issues that is important, and one he hopes will not sour relations further.