The Prime Minister committed to sending Paris £478 million (541 million euro) to fund a new detention centre in France and hundreds of extra French law enforcement officers.
Mr Sunak announced the package after meeting French President Emmanuel Macron during a UK-France summit at the Elysee Palace in Paris on Friday.
But there was no sign of the returns agreement with France that the Government desires as Mr Sunak makes "stopping the boats" one of his top priorities.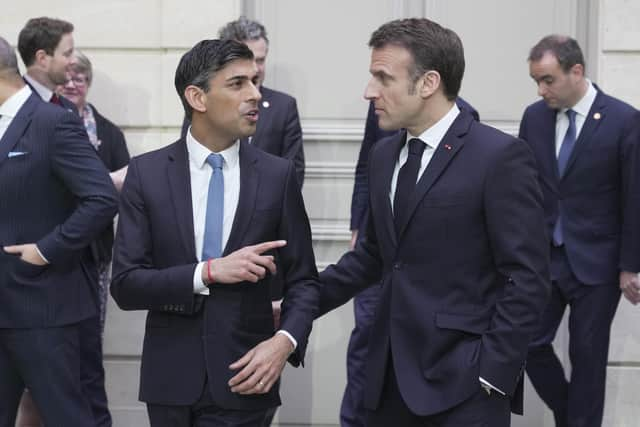 The UK has already committed more than £300 million to France in the last decade to help tackle unauthorised migration.
More than 3,000 people have already made the perilous sea journey this year, with almost 46,000 arriving by unofficial routes in 2022.
That is despite Mr Sunak and Home Secretary Suella Braverman announcing a £63 million package to increase patrol officers by 40% four months ago. That package followed a £55 million deal in 2021.
It is the first time the UK will contribute to building a detention centre in France to help deal with the numbers of people being trafficked.
Ministers say twice as many unauthorised crossings were stopped last year than in the previous 12 months and hope the new drones, aircraft and other surveillance technologies being funded will increase this.
Mr Sunak said: "Last year I agreed the largest ever small boats deal with France to increase UK-funded patrols by 40%. This week I announced measures to ensure nobody who enters the UK illegally can remain here.
"We don't need to manage this problem, we need to break it. And today, we have gone further than ever before to put an end to this disgusting trade in human life. Working together, the UK and France will ensure that nobody can exploit our systems with impunity."
Prime Minister Rishi Sunak hoped in the future the UK may still be able to sign a returns agreement with France.
He said the new package announced on Friday was "unprecedented", adding: "Going forward there will be more that we can do."