Scotland deposit return scheme: Ex-SNP cabinet minister warns Nicola Sturgeon flagship recycling policy heading for 'catastrophe'
A former Cabinet minister who served under Nicola Sturgeon has warned her flagship recycling policy is a "disaster" becoming a "catastrophe".
Fergus Ewing, who was Cabinet secretary for tourism and the rural economy until the ministerial reshuffle following the 2021 Holyrood election, made the intervention during First Minister's Questions.
He raised the fact 600 businesses set to be affected by the scheme had raised concerns, warning they were in a "state of fear and even despair" and stressed the scheme could "damage the reputation of Scotland as a place to do business".
The First Minister appeared to indicate parts of the planned deposit return scheme could change to help manage the impact of the scheme on small businesses in particular.
Applauded by opposition MSPs, Mr Ewing warned Ms Sturgeon that businesses "will close, some will fail and others will no longer sell their own produce in their own country of Scotland".
Demanding a halt to the scheme, he warned it "will damage the reputation of Scotland as a place to do business," adding: "First Minister, will you instruct a pause of this disaster of a scheme before it becomes a catastrophe?"
Ms Sturgeon said the Scottish Government will "continue to listen to and where possible address concerns that have been raised", telling MSPs that industry feedback has already resulted in a reduction in the costs to producers from deposit return.
The SNP leader added: "We continue to work with industry to ensure that there are pragmatic approaches to implementation, and we will do so right up to the point of implementation."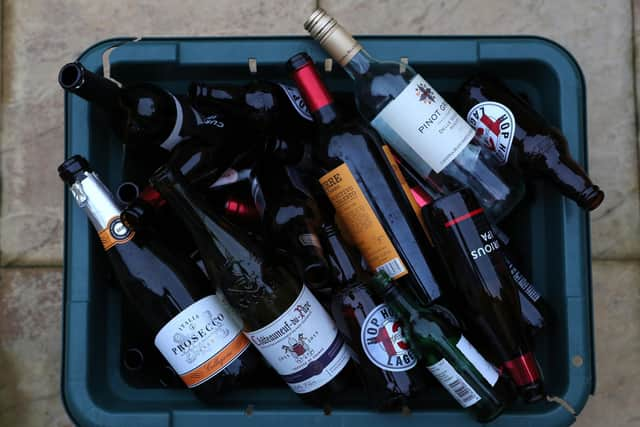 She said she was "particularly concerned" to see if more can be done to reduce the impact on small firms, saying "some of the concerns being raised there are not unreasonable".
It is understood Lorna Slater, the Scottish Green minister for circular economy, will meet with small producers who may be impacted by the scheme on Friday.
Scottish Government sources reiterated their commitment to the August 2023 'go-live' date for the scheme and rejected any prospect of delay.
However, the Government is exploring options intended to ease the burden on small businesses which fall into the scheme, such as a potential grace period, though no decisions have been taken or are understood to be imminent.
Mr Ewing also called for glass bottles to be excluded from the scheme. However, Ms Sturgeon said just four countries operating deposit return schemes exclude glass.
She said: "Of course it is the case there are strong environmental reasons for including glass. But of course on all these issues, we will continue to listen."
The First Minister stressed ministers would "continue to take a responsible approach, listening to the concerns of business and responding responsibly in the face of them".
Speaking to journalists after First Minister's Questions, a spokesman for Ms Sturgeon said: "Obviously there's been a lot of concerns expressed by the sector, I also think a lot of the specific issues have been addressed or are in the process of being addressed."
Asked if the First Minister was concerned about the criticism coming from within her own party, the spokesman added: "Fergus is obviously free to express his views as he chooses and he obviously did so very clearly today and that's his prerogative as an elected parliamentarian."
Want to hear more from The Scotsman's politics team? Check out the latest episode of our political podcast, The Steamie.
Comments
 0 comments
Want to join the conversation? Please or to comment on this article.