The First Minister has faced an onslaught of negative headlines over the transgender prisoner row, as well as some excruciating interviews.
Her gender reforms caused controversy when they were passed by a cross-party majority of MSPs before Christmas. But the subsequent case of Isla Bryson, previously known as a man called Adam Graham, poured petrol on the flames.
News that Bryson was initially sent to Cornton Vale women's prison after being convicted of raping two women caused "a massive kaboom", in the words of one SNP MP. An insider called the timing "jaw-droppingly terrible".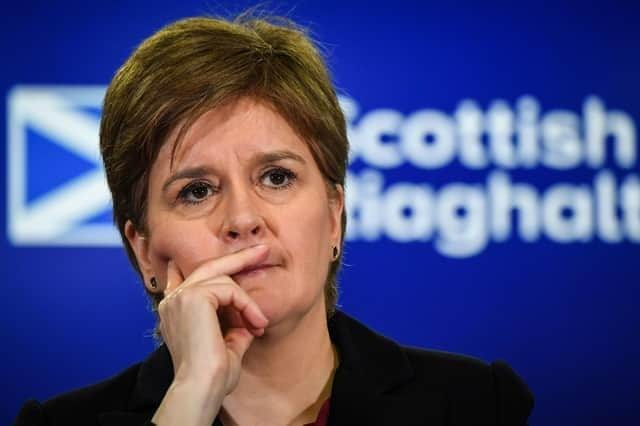 Critics within the SNP are now concerned the gender row has damaged the party and the independence movement, as well as undermining trust in the Government. Former first minister Alex Salmond, no friend to Ms Sturgeon, accused her of throwing away years of steadily-built support "with some self-indulgent nonsense".
Others characterise the issue as "difficult rather than damaging". If Ms Sturgeon was really worried about it, one MP said, she would not have held a press conference in Edinburgh on Monday to allow journalists to ask questions about anything they liked. Predictably, gender issues dominated.
"I think this is a lot of noise," the MP said. "Our opponents are doing what you would expect our opponents to do and making a lot of hay with that." But they added: "Undoubtedly this is a bit of a minefield that's harder for us to navigate through as a governing party than it is for everybody else who wants these mines to go off."
Within the Scottish Government, there is an acceptance the issue has cut through with the public, but also a belief the media coverage is overblown.
One well-connected party figure, who supports the gender reforms, said the issue had been handled "terribly" and the debate had become "inflamed".
"There are definitely concerns in the party that this will have lasting damage," they said. "There have definitely been people leaving the party. That's often overwritten though."
They believe the gender reform legislation, which aims to make it easier for trans people to obtain a gender recognition certificate by removing the need for medical reports, should have been voted through the Scottish Parliament before the last election. Instead, Ms Sturgeon's "cautious nature" allowed the issue to stew.
They also insisted the First Minister had "done herself no favours by antagonising people at times". This is a reference to Ms Sturgeon's interview on The News Agents podcast, where she said some opponents of her legislation "cloak themselves in women's rights" to hide their transphobia, homophobia, misogyny and even racism.
"It means that people who are not bigoted, who just harbour concerns, feel that that they're lumped in with not just bigots, but with racists," the party figure said. "What a way to antagonise people."
However, they argued the row "will die down with the passage of time", adding: "I don't think it's going to get much worse than it is right now. Famous last words."
Ian Blackford, the SNP's former Westminster leader, admitted the debate had "crowded out" other issues, but added: "We'll get to a better place over this stuff." Asked if he thought it had been handled well, he told The Scotsman: "It's been a challenging time just because of the emotive nature of the whole thing."
He said: "I think ultimately this will be resolved. And I hope, and I trust, it will be resolved in such a way that we can be proud of the legislation that ultimately is passed and the position that we're in in Scotland."
Mr Blackford pointed to the wider picture. "I think in the context of the journey that we've all been on since the establishment of the Scottish Parliament, I think we can be proud of how we've changed," he said. "Same-sex marriage, section 28, you name it – we're in a very, very different place than we were and in a sense this was one of the last pieces that needed to be dealt with."
Stewart McDonald, the SNP MP for Glasgow South, also characterised it as difficult, but not damaging. He called for the temperature of the debate to be brought back down, and for a conversation that trades in facts rather than "fiction and fear".
Internal critics of Ms Sturgeon's gender reforms see things rather differently. One said the First Minister had "bought wholesale into this ideology", calling it "bats**t crazy" and voicing despair at the leadership "blindly walking into a cul-de-sac" over the issue.
They claimed many of those who voted for the legislation are now "getting stick" in their constituencies, with some members leaving the party. "I think some of them didn't understand what they were voting for," they said.
The critic said it would be "madness" for Ms Sturgeon to go to court to challenge the UK Government's decision to block her legislation. The First Minister previously said this was inevitable, but no action has been taken so far. A recent poll suggested more Scots are on the side of the UK Government.
There are "toxic" divisions in the SNP over the wider gender debate, as there are in other parties.
Ms Sturgeon's political opponents have made much of her reluctance to say whether Bryson is a man or a woman. The First Minister has been asked the question repeatedly in interviews, press conferences and in the Holyrood chamber. "It's a deliberate set up to try and force marbles into people's mouths," one SNP MP said, calling it an "obnoxiously stupid question".
In a few weeks, a special conference will decide the future of the SNP's independence strategy. Ms Sturgeon has said she wants to fight the next general election as a "de-facto" referendum, but it is not clear how this would work in practice. Mr McDonald has been critical of the idea, and he is far from alone. Expect more to have their say.
The ensuing debate will alter political history. However, it comes as the Scottish Government grapples with a growing number of problems, including a row over council funding, ongoing teacher strikes and concerns over its proposed National Care Service.
It remains to be seen whether recent weeks will have a lasting impact. But one thing is certain: Ms Sturgeon could really have done without it.