The Government is pressing ahead with plans to introduce new legislation for "minimum safety levels" during industrial action.
The Business Department announced yesterday that a Bill will be introduced in Parliament in the coming weeks to ensure that vital public services will have to maintain a "basic function" when workers go on strike. But the measures could allow employers to sue unions and sack workers if they did not comply.
It comes as rail services were being hit by a third consecutive day of industrial action. About 12,500 train drivers from 15 companies were striking on Thursday, hitting cross-border services.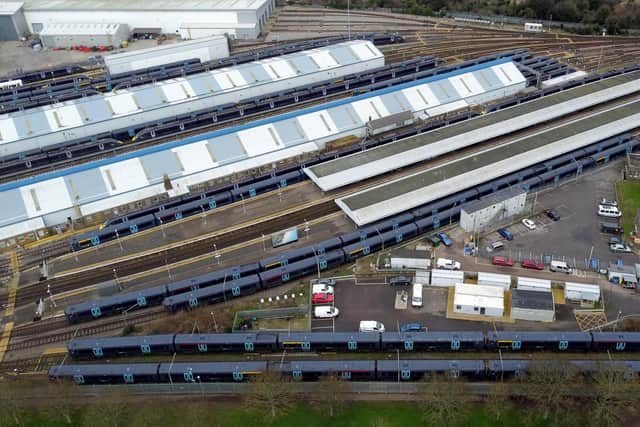 SNP deputy Westminster leader Mhairi Black labelled the plans "utterly shameful", and pointed to the difference in approach to strikes between the two administrations.
She said: "These immoral proposals from the Tory Government speak to the hard-right rhetoric that has Westminster in a choke-hold – and it's Scotland's key workers who are set to pay the price of Westminster control.
"Just months ago, the UK Government applauded key workers. Now they are threatening them with the sack if they go on strike.
"The SNP condemns these plans in the strongest possible terms, which contrast starkly with the constructive role the SNP Scottish Government has played in recent pay disputes north of the border.
"The recent series of papers from the Scottish Government show exactly what Scotland could do with the full powers of independence, from a new single rate for the national minimum wage to laws that strengthen the rights of workers with flexible working and better industrial relations. These priorities are the polar opposite of the latest proposals by the Tories at Westminster."
Her intervention comes on the same day a union boss warned the laws imposing minimum service levels could prompt workers to stage longer periods of industrial action.
Unions said the lesgilation would do nothing to resolve the disputes breaking out across the country every week.
Business Secretary Grant Shapps, however, defended the plans: "We hugely value the work of our public services and we're reaching out to unions to have an honest conversation on pay, conditions and reform.
"Industrial action is disruptive for everyone – from people relying on essential services to get to work or care for their family to hard-working business owners whose sales suffer. It also costs those striking at a time when family budgets are tight. As well as protecting the freedom to strike, the Government must also protect life and livelihoods. While we hope that voluntary agreements can continue to be made in most cases, introducing minimum safety levels – the minimum levels of service we expect to be provided – will restore the balance between those seeking to strike and protecting the public from disproportionate disruption."