Scotland's falling population and 'acute' pressures set to hit GDP growth
Scotland's population is projected to fall by nearly 900,000 over the next 50 years, the Scottish Government's official forecaster has said, with "acute" demographic pressures hitting GDP growth.
The independent Scottish Fiscal Commission (SFC) projected growth of 0.9 per cent per year on average between 2028/29 and 2071/72.
This compares to growth of 1.4 per cent for the UK as a whole.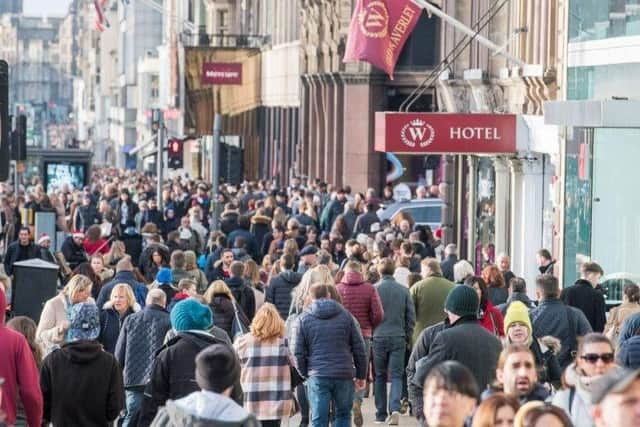 GDP per person is also projected to grow at a slower rate than in the UK, with the commission predicting an annual average increase of 1.3 per cent in Scotland compared to 1.4 per cent in the UK.
Critics called the figures a "stark wake-up call".
The SFC said Scotland's population is projected to fall by nearly 900,000, a drop of 16 per cent, between 2022 and 2072.
This is roughly equivalent to the population of Edinburgh and the Lothians, and close to that of Greater Glasgow, which sits at just over one million.
The UK population as a whole is projected to fall by 1.3 million, a drop of 2 per cent. This compares to an increase of 8.8m from 1997 to 2020.
The SFC said those aged between 16 and 64 account for 64 per cent of the population, but this is expected to drop to 56 per cent in 2072.
Its projections come ahead of a full report next year on Scotland's population over the next 50 years and its impact on the economy.
The forecaster said Scotland faces "similar though more pronounced challenges" to other high-income nations and to the UK in terms of its ageing population.
Scotland's population is projected to be 7.6 years older on average in 2072, while the UK's is set to be 6.1 years older.
The SFC said the "more acute ageing population in Scotland is primarily a result of a low number of births caused by a low fertility rate combined with an already older population".
It added: "A decrease in net migration also contributes to this change, but to a lesser extent."
Deputy First Minister John Swinney said plans to address depopulation were being developed.
He said: "This analysis by the Scottish Fiscal Commission provides a valuable contribution to understanding the key issues facing government in the longer term.
"It assumes no change in the constitutional settlement – and includes the impact of Brexit on migration to Scotland.
"An action plan to address depopulation is being developed, to enable retention and repopulation across rural and island communities.
"Being taken out of the EU is inevitably having a negative effect on the working age population, and only the full powers of independence will provide the full range of immigration powers needed to chart a policy best suited to Scotland's needs."
Scottish Conservative economy spokeswoman Liz Smith said: "This report should be yet another stark wake-up call for SNP-Green ministers.
"As our economy faces the challenges of the global cost-of-living crisis and the devastating effects of the pandemic, ministers need to put policies in place that will ensure a robust and vibrant Scottish economy in the future.
"For too long, the SNP have stifled economic growth and delivered a raw deal for taxpayers compared to the rest of the United Kingdom.
"If they are to avoid these estimates on population decline in Scotland coming true, then they must urgently develop policies that make Scotland an attractive place to live and work in."
Scottish Liberal Democrat communities spokesman Willie Rennie said the figures showed "entire industries are likely to find themselves in peril, from social care to fruit picking".
He said "The Scottish Government must do better at making Scotland a more attractive place to live and work.
"With an ageing population, Scotland and indeed the whole of the UK needs immigration in order to flourish.
"That's why arbitrary Conservative immigration plans are so misguided. We run the risk of starving our economy and NHS require of the talented people they require."
SNP MSP Michelle Thomson said: "These projections show the grim reality that Scotland faces as a consequence of a future under Westminster control, underlining how vital it is for people to have a choice of a better future as an independent country.
"Whilst Northern Ireland's economy reaches a 15-year high as a part of the world's largest single market, Scotland is being left to suffer the impact of Westminster and its damaging Brexit obsession – leading to a predicted 50 years of economic decline and stagnation for Scotland, despite Scots overwhelmingly voting to remain in the EU and the single market."
Professor Graeme Roy, chair of the SFC, said: "While Scotland is no different from most high-income economies in facing demographic pressures, those facing Scotland are particularly acute.
"Our fiscal sustainability report next year will explore how these will affect the Scottish budget in the future.
"Politicians and those delivering public services will need to consider how to respond to these future fiscal pressures."
Comments
 0 comments
Want to join the conversation? Please or to comment on this article.