While parties like to compete in their offer of big ticket items – more houses, more nurses, more teachers – it's always the small print around the timing where the real differences lie.
However, the just-launched Alba party manifesto makes no such great claims – it puts very few numbers on how to create "the Scotland we seek" as the blurb has it.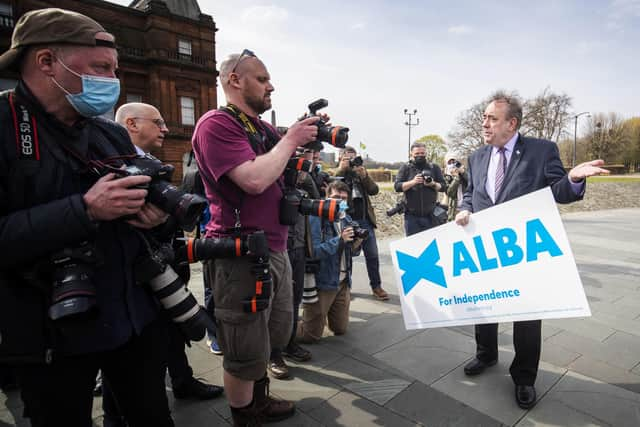 Yes, there are sections on education (the old "rocks will melt with the sun" when it comes to imposing tuition fees makes it in) and health, but it's all broadbrush and similar in tone to much of what other parties are saying about recovering from Covid, but with an added push for more economic powers to Holyrood.
On tax, there's a swipe at the SNP and "virtue signalling" through "tinkering" with the current system and a promise to "push for what makes a difference and not what makes us look good".
The manifesto pledges a drive for more capital investment in what the party describes as its "investment opportunities", including new houses, new care homes and more renewable energy.
Similarly, it's not keen on Nicola Sturgeon's call for a four-nations approach to a public inquiry into the handling of the Covid pandemic, nor does it think abolishing NHS dentist charges is the solution to a dental health crisis, rather it's the availability of provision.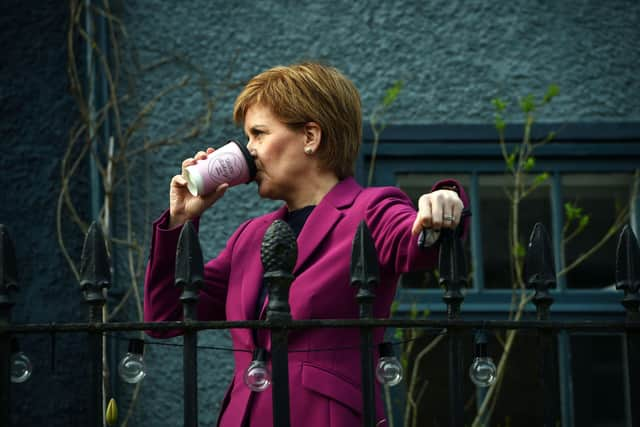 But Alba's stated aim is not to make it to government, but to be a thorn in the side of Ms Sturgeon when it comes to independence.
Mr Salmond has criticised his former protegee relentlessly in the past few weeks as being too timid and dragging her feet on securing another referendum. How can it be that with a pro-independence majority of MSPs in Holyrood for the last five years, nothing has happened, he asks?
Urgency is what he has therefore promised Alba will inject to the constitutional debate – not letting the SNP "kick the can down the road" any longer.
For those who have been desperate for a "plan B" on independence, should the UK Government continue to refuse a section 30 order, all of this will be music to their ears.
For those who'd rather not see another referendum, let alone independence, it will be another reason not to flirt with any pro-indy parties on May 6, no matter if there are other policies they might like.
But does the Alba manifesto do what it says on the tin? Just how different is it in its approach to the constitutional question than that of the SNP?
Reading the small print, there's barely a hair's breadth between the parties – the real difference is in the performance.
Mr Salmond, who once had a similar gradualist approach to independence as Ms Sturgeon, now calls for more "gallusness" from the First Minister. It's not a word that trips easily from his east coast tongue – his pronunciation of Alba wasn't spot on initially either – but it's an attitude he knows all too well how to adopt.
Ms Sturgeon has said a referendum should be held by the end of 2023 and there's no need to worry that too much time and resource would be swallowed up by the constitution to the detriment of the Covid recovery. Mr Salmond is on the same page – independence, he says, isn't a distraction from the recovery and both go hand in hand.
He wants, should there be a pro-independence majority, from the moment a new Scottish Government is formed, for Parliament to pass a motion calling for independence negotiations to open with the UK Government. Ms Sturgeon has said there is already a "standing demand" for a section 30 order with Boris Johnson.
He says leaving the future of Scotland "in London's hands" is not an option. She says "the people best placed to decide who governs Scotland are the people who live here and not Boris Johnson".
Mr Salmond wants to set up new "talking shops", including an Independence Commission reporting to a Special Committee of the Scottish Parliament and a Convention of all Scottish Parliamentarians to discuss what an independent Scotland might look like, and the institutions it may need.
Although the idea that Conservative, Liberal Democrat and Labour MSPs would want to sit in such a convention feels rather a reach.
Meanwhile, Ms Sturgeon has admitted a new case, particularly on economics, needs to be made for independence, but it's the SNP that is working internally to provide that, but a Citizens Assembly could also be involved.
They agree it would be "undemocratic" for Mr Johnson to refuse a second referendum should a majority of pro-independence MSPs be returned. They just quibble about the numbers.
Mr Salmond has said should the answer be "no", Holyrood should pass a Referendum Bill, which the UK Government would have to contest in court (as well as demonstrations, diplomatic pressure from other countries, and possibly an appeal by the Scottish Government to international courts).
Ms Sturgeon agrees there should be a Referendum Bill and if it was challenged by the UK Government, she would "defend it vigorously".
Mr Salmond's Alba's manifesto is full of adjectives like urgent and immediate, the SNP's language choice is heavier on democracy and morality, but both are clear on the end goal. In reality, there's very little difference between them aside from bombast.
A message from the Editor:Thank you for reading this article. We're more reliant on your support than ever as the shift in consumer habits brought about by Coronavirus impacts our advertisers.
If you haven't already, please consider supporting our trusted, fact-checked journalism by taking out a digital subscription.