Scottish law 'should stay aligned with EU'
Laws in Scotland should keep pace with those in the European Union after the Brexit transition period ends, Scottish ministers have said.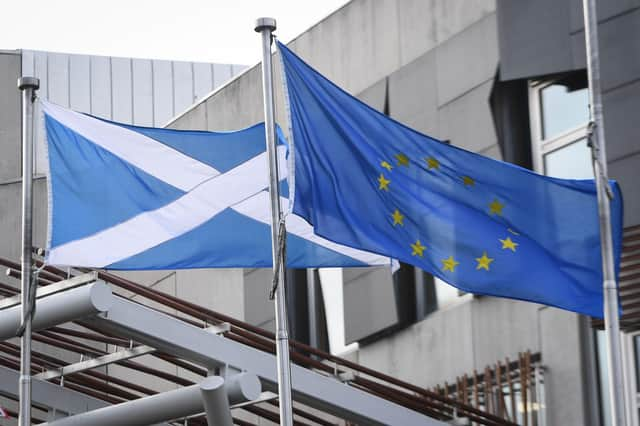 Constitution Secretary Mike Russell said a new bill at Holyrood will mean that on devolved matters, Scottish law can keep in line with those in Europe "when appropriate and practicable to do so".
It came as one of his SNP ­colleagues accused the UK government of putting the post-coronavirus recovery at risk by pushing ahead with plans to leave the EU.
The Scottish Government's Europe minister Jenny Gilruth claimed there had been "no meaningful input from the devolved administrations", with her complained echoed by a Welsh Government counterpart during a virtual discussion hosted by the Institute for Government think-tank.
Repeating the two devolved administrations' call for an extension to the post-Brexit transition phase, which has been rejected by UK ministers, Ms Gilruth said: "We'll do the best we can, but we are being hampered by not knowing what we need to implement because it's still being ­negotiated, and it's being negotiated at ridiculously tight timescales."
She added: "We have paused our work on independence to focus on the coronavirus crisis; it's really deeply regrettable that the UK government has not paused their work on Brexit to focus on saving lives."
The Scottish Government says its UK Withdrawal from the European Union (Continuity) (Scotland) Bill will provide for continuity of provision that would otherwise be lost with Brexit. The legislation will give Scottish ministers a discretionary power to align Scottish law with EU legislation after the transition period ends on 31 December.
The bill also includes provisions to ensure EU environment principles and governance can continue in Scotland.
A new body called Environmental Standards Scotland will be set up to ensure compliance with environmental law.
Mr Russell said: "It is completely unacceptable that Scotland has been taken out of the EU but this bill will enable us, in devolved areas at least, to 'keep pace' with Europe, when appropriate and practicable to do so.
"It is required as a direct result of the UK's withdrawal from the EU, and is more urgent because of the UK government's reckless refusal to ask for an extension to the Brexit transition period."
Mr Russell discussed the bill further at the Scottish Parliament's Constitution Committee yesterday.
Conservative MSP Murdo Fraser said that from December, EU laws will be made without input from anyone in the UK.
He asked Mr Russell: "What the Scottish Government seem to be proposing in this bill is that ministers will have the power at their discretion to determine whether new EU laws would become part of Scots law. Is this not just a power grab?"
Mr Russell said that was a "false assumption" because "law cannot be conveyed by the Scottish Parliament at any time without scrutiny".
Comments
 0 comments
Want to join the conversation? Please or to comment on this article.