Scottish Opera boss tells of 'direct impact' of 'diminution' of music teaching
The reduction in music teaching in Scotland's schools has had a "direct impact" on the country's cultural sector, the boss of Scottish Opera told MSPs.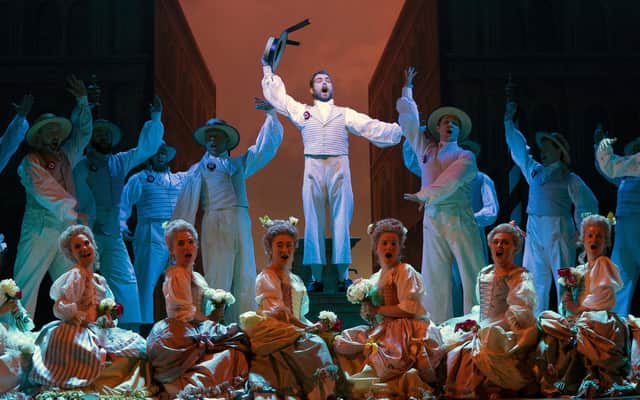 General director Alex Reedijk complained about the "diminution of music teaching in schools" saying this had affected the "flow of young people into our sector".
He spoke out on the issue as the heads of most of Scotland's leading arts companies told MSPs about the impact of reduced funding on their organisations.
Senior figures from Scottish Ballet, the National Theatre of Scotland. the Scottish Chamber Orchestra and the Royal Scottish National Orchestra (RSNO) all appeared at Holyrood's Culture Committee.
While the SNP had pledged to ensure school pupils would not have to pay for music teaching as part of its 2021 election manifesto, Mr Reedijk said there had been a reduction
Scottish Opera has had to disband the orchestra that was part of it's youth company, Connect, as a result, he added.
Speaking about Connect Mr Reedijk said: "With the diminution of music training we have now had to disband the orchestra because there were no young people coming through to participate in it."
He added: "There has been a direct impact of the diminution of music teaching in schools on the flow of young people into our sector."
The Scottish Opera boss also told MSPs how the arts sector was losing workers who are instead going to the "thriving" film and TV sector.
He stated: "Scottish Opera has a large producing company, we have a constant throughput of young technicians, young costume makers, young marketeers."
Mr Reedijk told how these staff would often go on to work in other jobs in the culture sector, saying: "We see ourselves as a training organisation, we don't mind the churn of young people because we know we are doing our bit to populate the sector."
But he added: "Now we've lost a lot of our freelance folk to the film and TV sector because happily for Scotland that sector is thriving, but less happily for us a lot of really clever people have gone over to that world because in the short term the money is very, very fine indeed."
His comments came as bosses of some of the other arts companies spoke out about the reduction in public cash.
Steven Roth, the executive director of Scottish Ballet, said with less money coming from local and national government, arts organisations had to compete for funding from other sources.
He said: "When standstill funding has been continuing for 10 years or so we have had to make it an imperative to raise money in other ways, usually it is coming from trusts and foundations, or from sponsorship.
"It becomes harder and harder to do it – we're in a competitive space with each other, as much as everyone else that is out there looking for money."
As a touring company he said the cost of taking productions on the road was "phenomenal, particularly for fuel" but said under the current situation there was "nothing like the security you have with government funding that is at least linked with inflation".
Brenna Hobson, executive director, with National Theatre of Scotland, said all arts companies are "out there hustling for extra money" at the moment.
She added: "We are coming towards the end of the efficiency we can bring to bear and it is starting to have an impact on the amount we can put out, and that is a concern."
Comments
 0 comments
Want to join the conversation? Please or to comment on this article.